Discussion Starter
·
#1
·
Years ago when I was in law school, I bought a Chinese Norinco Type 213 Tokarev. This was the one made with the smaller gripframe, designed especially for the 9x19 cartridge. I didn't
need
the gun, but at around $100, it was too good to pass up (I traded a used Beretta 950 BS .25 straight across for it - I had two of those). I wound up using it a fair amount, as a car gun. I lived in a pretty bad area at the time, and I'd take it out of my car and bring it up to my well-secured apartment every night. I loaded it with IMI's UZI-brand black-tip carbine rounds - I recall that these 115-gr FMJs chrono'd in the mid-1200 fps range from the Tok.
The gun was fun to shoot. It wasn't super-accurate, had a creepy trigger, but it worked and worked and worked. In my many dealings with the shady side of life at the time (I was working as a private investigator for a criminal defense attorney at the time, and I was - as I mentioned - living in a bad part of town), I had occasion to bring the gun into sight at least three times that I can quickly recall - and I actually racked a bullet into the chamber and aimed it on one of them. As I said, it worked, worked, worked, and I relied on it (NM at the time had no legal way to CCW, so I often found myself falling back on the decent-sized and -calibered car gun instead of a carry gun when things got weird).
Anyway, after a time I was a lawyer and I was moving to a different town and a friend asked to buy the Tokarev. I sold it to him for cheap, but I missed it soon afterward. Something about the way the skinny thing felt. When I eventually asked my friend if I could buy it back, he told me that his crazy mother had been visiting, and he had destroyed the gun
out of fear that she would hurt herself or someone else with it (Dude! Why not just leave it at the office! ???)
Well, years later when I was at the tail end of my milsurp madness, I saw that SOG was importing Polish Tokarevs. The Circle-11 mark confirmed that these were made at the famous Radom factory - anyone familiar with Polish weapons knows that they're are of top-notch quality (the P-64 possibly excluded - jury's still out on that). I missed the slender bastard child of John Moses Browning, and snagged one for $129. Here are some pictures.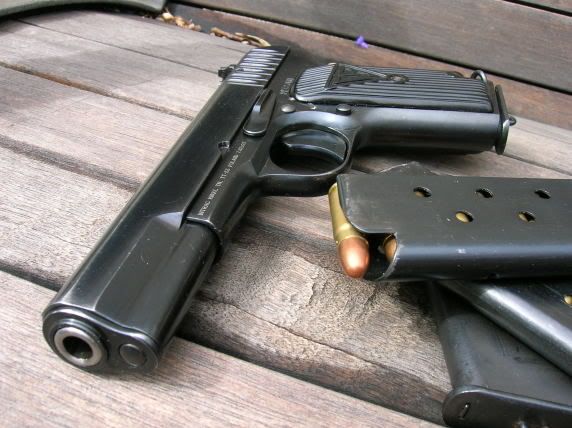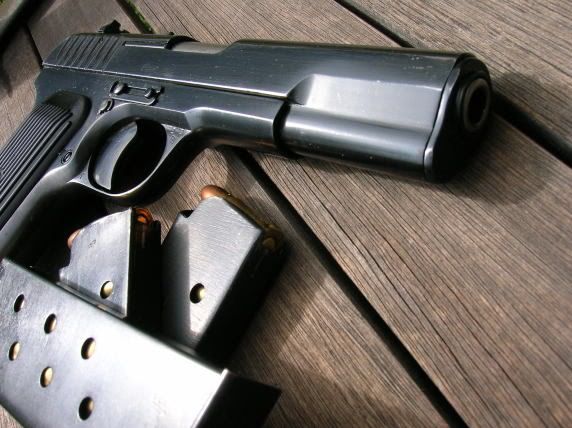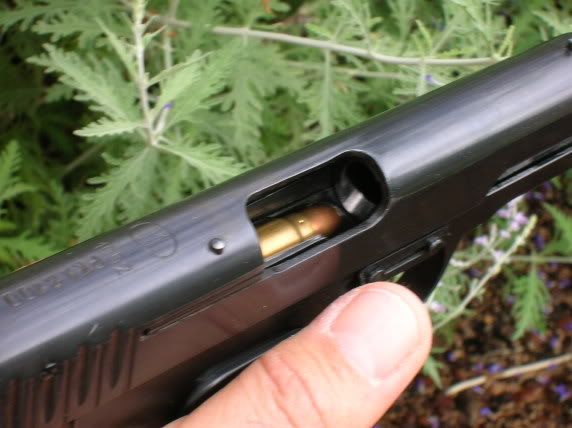 It came with a goofy import-rules-required safety, of course, but a better-designed on than that on the Chinese Toks I'd seen. The Chinese (and some Russkis) Tokarevs put a crude safety on the frame to the rear of the left grip. The Poles made a somewhat less crude safety (strictly trigger-blocking, nothing you'd want to rely on) and put it in front of the left grip. They had to modify the grip for this, and they put a stupid thumbrest on the left grip for additional import points ("It's a
target
gun - yeah, that's the ticket!") I'm a lefty, so the thumbrest got in the way of my enjoyment of the gun. I wrote to Poland and had a fellow send me some original grips. I broke the right hand side installing it, but the LH grip is now as it should be - no thumbrest.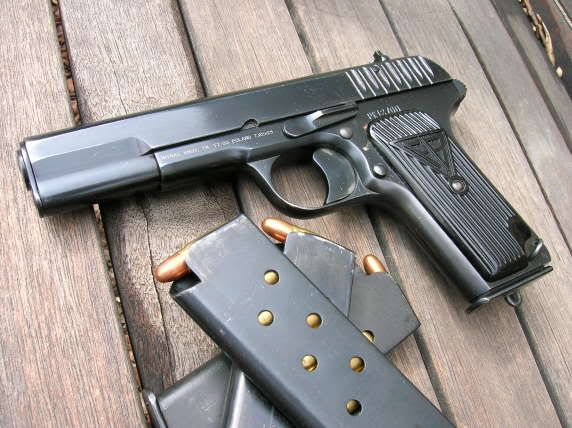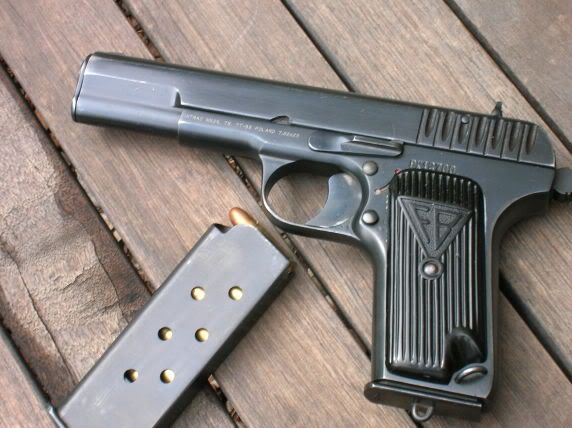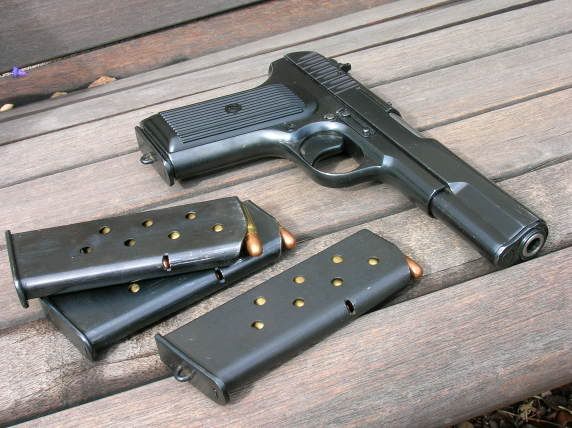 The safety got in the way of my trigger finger as well, so I removed it. Gil introduced me to a friend of his who's a good machinist. He made me a part that would block the hole in the frame where the safety had been. I blued it and installed it, and am happy as a clam with it.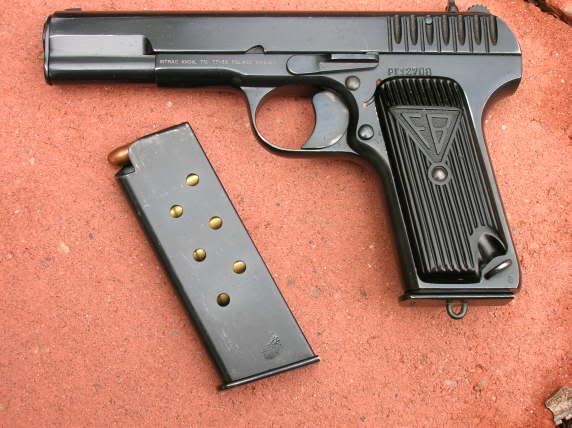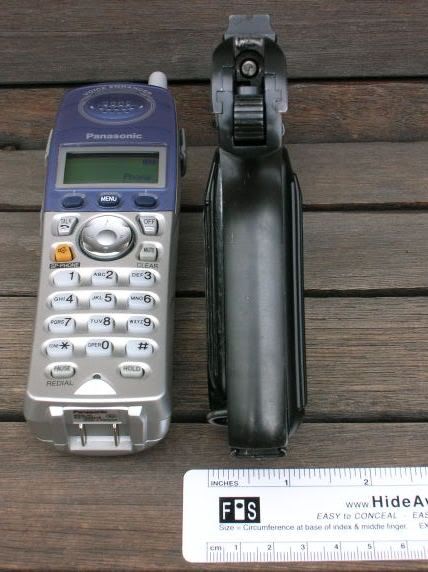 The Polish Tokarev may be my most fun gun to shoot. It has enough recoil to let you know that you've launched something of consequence, but the fast-moving 86-grain pill imparts so pleasant a little push that a child would enjoy it. There's a satisfying
CRACK!
that gets the attention of onlookers, and the bottlenecked rounds never jam. The trigger on the Pole is pretty nice, too - I helped it out with some strategically placed dollops of Militec TW-25B. One thing that strikes me as negative on the Polska Tok is that it seems to
want
to rust . . . even here in the desert! I wax mine after I clean it, and it seems to do okay. I've thought about having my gunsmith friend hard-chrome it, but I'm not sure that it would look right.
It gives nice velocities. The easily found S&B 86-gr FMJ (also marketed as Winchester USA ammo for slightly more money) does an average of 1531 fps out of this slender pistola. Romanian surplus ammo does 1516. I have some neat Yugo stuff on which . . . gee . . . . the bullets are attracted to magnets. I'll bet that's a decent penetrator!
Anyway, I have carried it on hikes in the mountains, I've carried it (nothing in the chamber, full mag) around town - its slim profile makes it easy IWB, but I don't usually carry it. I just like to have it. Anyone else have Toks that they like?