Discussion Starter
·
#1
·
Hello. Not my most used revolver to be sure, it is my favorite of the ones that I own, an S&W Model 24 w/6 1/2" bbl that I bought barely "used" for a couple of hundred bucks a few years back.
I have been impressed with its accuracy with handloads it likes.
Lighter in the front end than the .44 magnum, the gun feels more like a Model 27 or 28 in the same or similar barrel length to me. Whether this is "good"or "bad" depends upon what the individual shooter prefers, I reckon. It works fine for me, but I do not try and turn the Special into a Magnum.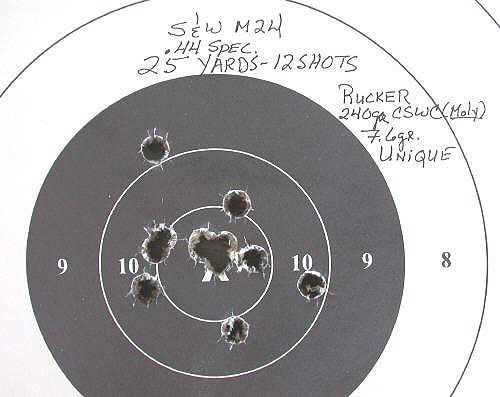 Not my best nor worst group with this revolver, this target is about average for me. I think any of these shots would have been close enough on the vitals of a Texas whitetail at this distance.(The non-molyed 240-gr. CSWC over 7.5 grains Unique shoots a bit tighter.
As mentioned earlier, I don't try and "magnumize" the Special, but I do shoot "honest" loads in it. Brisk to be sure in the more popular concealed carry .44 Special revolvers, recoil is mild in the heavier/larger Nl-frame and not abusive.
A couple of loads that have worked well for me have been:
Hornady 200-gr. XTP
8.5-gr. Unique
Win LP Primers
Starline Cases
Average Velocity: 1124 ft/sec
Extreme Spread: 47
Std. Deviation: 17
Rucker 240-gr. CSWC
7.5 Unique
Win LP Primer
Starline Cases
Average Velocity: 1039
Extreme Spread: 17
Std. Deviation: 7
I limit myself on whitetails to about 40 yards maximum and pass on anything less than "perfect" when using a handgun, regardless of caliber. Within my own self-imposed limits, I have had no complaints with this caliber on Texas whitetails...but most of the time all this one shoots is paper.
If you get the opportunity to pick up one of these and handload, I'd suggest giving one a try. Factory ammo is expensive and most is not loaded quite fast enough in my opinion.
The .44 Special has been touted as an "inherently accurate" cartridge. I do not know if that is true or not; I do know that I've been able to get
most
.44 Special handloads to group plenty well...and some have been exceptionally consistent. So
if
it's inherently accurate, that helps, but I also think that it's been offered in some nice revolvers over the years, well-made ones that will group, and it's light recoil makes it easier for many to shoot well.
A bit too large for concealed carry in Texas, I don't really consider this one a defensive arm. It has put meat in the freezer a time or two and is mainly just a pleasure to shoot.
I regret not buying more of these over the years when they were so much easier to find...and at nice prices, but such is the case with most S&W revolvers I'd like to own now, but don't.
Oh, for a time machine...
Best.