Discussion Starter
·
#1
·
Hi there all,
This morning I finally got a chance to head to the range and try out my newly acquired SIG P-226 in .357 SIG. Before I left, I cleaned the bore and lubed the slide rails.
Heading to the Range with a box each of Speer CCI Lawman and Winchester White Box, I pulled the SIG from the box and examined the controls. This particular model was built with the traditional DA/SA trigger system.
Putting several magazines of each of the above type ammunition down range, there were no failures to feed or eject. I estimate the double action trigger pull to be between 6-7 pounds and the single action trigger pull about 4 pounds.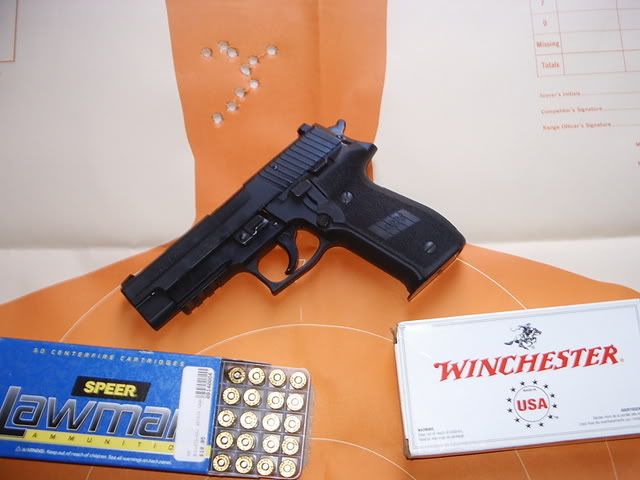 This was one of several targets shot rapid fire at about 10 yards using the Speer CCI Lawman Ammunition.
Firing for function testing only, the pistol shot to point of aim. For me, the higher hand to bore axis of the SIG is a benefit for accurate shooting and the SIGlite sights picked up the targets in the dimly lit shooting range.
The controls were easy to reach and manipulate on this full-size combat handgun. The ejection of the magazine was very positive and the magazines were very easy to load with the bottle neck .357 SIG cartridge.
While I didn't take the time to do any accuracy testing on this particular handgun this morning the recoil was very managable and straight back with very little muzzle flip compared to other steel frame handguns I have shot. This translates into more controllable shooting and accurate follow-up shots.
I really enjoyed shooting this new to me handgun and will follow up with more reports later as I aquire different loads and ammunition.
Chris