Discussion Starter
·
#1
·
Hello. A while back I took a hard look at the Ruger GP100 .357 Magnum revolver. At that time I was looking for a NIB or like new S&W
3" Model 13 or 65 but couldn't find one except either in poor shape or at way too high a price.
For those interested, the original article is here:
http://www.hipowersandhandguns.com/Range%20Evaluation%20-%20Ruger%20GP100.htm
A good friend mentioned a sale on 3" short shroud GP100's. He advised that he'd had good luck with them so I bought one.
Since writing the initial review, I have shot this gun on more than a few range trips with either handloaded or factory 357's, usually using bullets in the 145 to 158-gr. range.
The last time I shot the gun was a week or so back. Nothing was done on paper, just steel targets and plates. I fired just over 200 rnds of S&B 158-gr. JFP ammunition. As has been the case on every other outting with this gun, there were zero problems. I have not yet shot the S&B on paper so I don't know how well it does or doesn't group but at distances out to about 20 or 25 yards, it was no problem smacking the plates and such double-action.
I cannot speak to all Ruger revolvers as I own but two,the GP100 being discussed and a 3 1/16" SP101, but the trigger on the GP has smoothed up very nicely...VERY nicely. It was surprisingly good out of the box but it is slicker than a gut as this is written.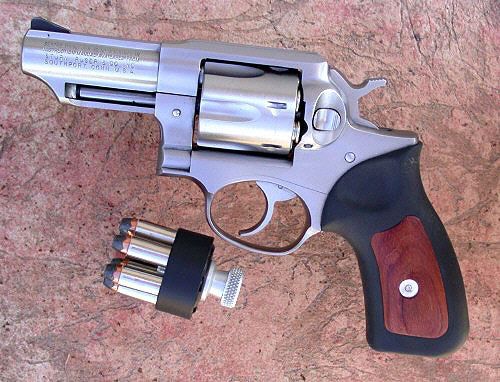 To me, this revolver doesn't have the classic "revolver look" that only an S&W has, but neither do I find it "ugly" as some have suggested. I definitely have found it reliable as homemade sin and am most happy with the smoothed trigger pull. I even like the factory grips and have no intention of changing them.
I would estimate that roughly 1600 rounds have been fired through the gun and it sometimes accompanies me on work days at a friend's ranch...but it also serves as an always loaded house gun as well.
If I could get Ruger to stop with all the lettering on the bbl AND offer this style revolver in .44 Special, rest assured that I would. I think a 5-shot .44 Special GP100 would sell like the proverbial hotcakes.
I know at least one would...and probably two!
I still enjoy and like the older (read that pre-lock) S&W revolvers but have also gained quite a bit of respect for the Ruger revolvers I've tried as well.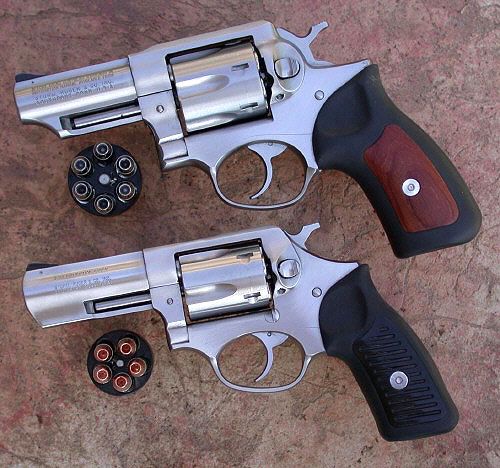 These are the only two Ruger revolvers that I own. Both have proven themselves utterly reliable and worthy of serious consideration for folks wanting tough revolvers that seem to just keep on doing what they do. I would trust either of these for "serious" purposes.
Best.