Discussion Starter
·
#1
·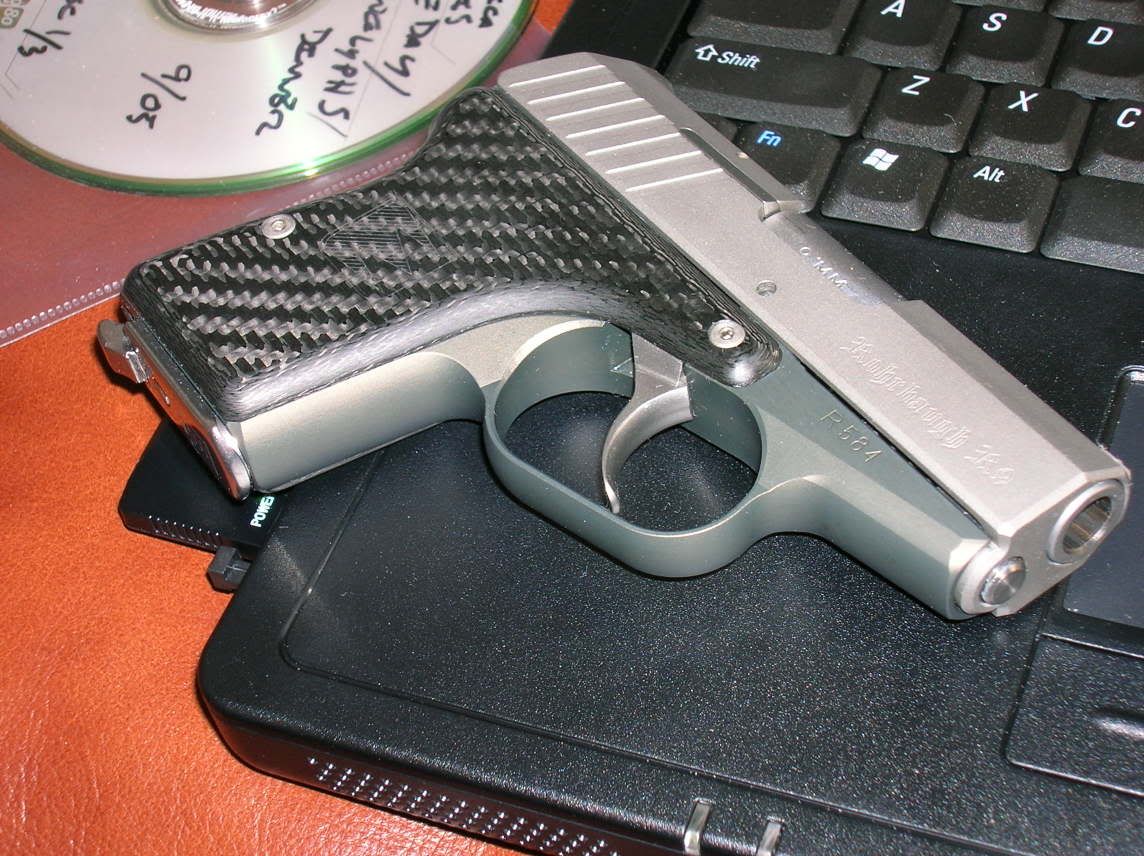 The R9s is almost precisely the size of the Protec-25 (CZ 45) clone that I had in the early '90s (about .8" across, 5.2" long, 4" high), but it's chambered for a full-bore 9x19. You can't use +P or +P+ ammo, but, hey, it's pretty handy nevertheless. The short (3") barrel certainly robs some performance (my Silvertips - they're what the gun's designer carries, so that's good enough for me - average 1060 fps out of the shorter bbl as opposed to 1165 out of a 4" tube), but the gun still provides a terrific amount of power for such a teensy package.
Rohrbaugh's pistols are incredibly well made. Their techs are jewelers, and the level of finish is better than on any pistol (out of dozens and dozens) that I've ever owned. Accordingly, clean up is a breeze - the briefest wipe-down with a solvent-saturated patch takes the crud of a hundred and fifty rounds off. Because the gun is so tightly fitted (seriously, like a P210 or better), the crud build-up can be an issue. The factory recommends a wipe-down every 50 rounds to keep it functioning properly. I've noticed that function does seem to deteriorate (misfeeds begin to occur) around the 75th round if I don't clean the gun.
I initially had real difficulty getting my R9s to work for me. It worked flawlessly for everyone else, so I knew it was just me. It turned out that my oddly shaped hands (I have a decent amount of meat on the ball of my thumb and the heel of my hand, but very thin palms) combined with my front-to-back Weaver grip and the gun's narrow (.8"!) gripframe were allowing the gun to slip around a bit too much. When I adopt an Isoceles grip (score another point for Andy Stanford in the ongoing Weaver-vs.-Iso debate) with lateral (right-to-left) compression of the gripframe, the gun works flawlessly. (I had this same problem with the thin Kel-Tec P32 . . . thanks to my friend's son, Matt, for remembering this and thereby solving the problems I had been having.
)
Rapid fire, I easily keep all seven shots (six in the mag, one up the spout) in a 8" pie plate at 10 yards. Slow fire, the pistol will shoot a group of around 1.5" (or, at least, that's what
I'll
shoot with it) at the same distance. (I've tried it with a variety of ammo, and get about the same results - my gun doesn't seem to like Blazer Brass, but who care?) Keyholing has been reported with some guns and some bullet weights. It's weird: In the first 100 rounds, I got some clear keyholes and some partial ones. In the last 250 rounds, I haven't had any. Not one. Very odd, but maybe it was just a question of polishing in the bullet leade . . . the consensus is that the keyholes are caused by the slightly longer bullet leade in the barrel before the rifling starts - apparenly this is part of the design to allow such a high pressure cartridge in such a tiny pistol).
The trigger pull is long and amazingly smooth. I haven't measured it, but I'd guess it to be somewhat under 10 pounds. The gun's recoil is not sharp and considerably less than that of a +P 158-grain .38 spl out of an all-steel J-frame snub. As mentioned earlier, the shooter's grip on the pistol can definitely affect function, although it seems to be a lot less of a problem for those with thicker hands.
Slide bite is nil - the gun is well-designed to prevent it. The gun points better for me than any pistol I've used. Excellent design. Karl Rohrbaugh told me that he spent a lot of time whittling on a wooden model of the gripframe during design - he mounted a laser pointer on top to determine the best angle for pointing. The mag retention is via a European-style heel release . . .
exactly
what I want on a pocket gun (can't tell you how many times I found my Kel-Tec P32 sitting in my pocket with the mag disengaged).
While the R9s (the model I have) comes with sights, the R9 (same price) does not. Karl Rohrbaugh's pistol is an R9. He says that he considers his pistol to be a modern repeating derringer and told me that, like Larry Seecamp, he feels that a shooter should be able to hit with his pistol at its intended distances without reference to the sights. The Rohrbaugh points a darn lot better than any Seecamp I've shot, though. I went ahead and got my pistol with the sights because they're unobtrusive and - well, why not?
By the way, Karl Rohrbaugh mentioned that there are two future models soon to be announced. His senior tech told me what they would be (think different calibers) but swore me to secrecy. I think one of the new models will cause some excitement . . .
You may notice that I've talked about Karl Rohrbaugh quite a lot. The reason for this is that I've talked to him quite a few times. When I was having problems figuring out why the gun was working for everyone but me, I called and talked to the factory several times. Karl and his senior tech took my calls, and spent probably almost two hours on the phone with me over a couple of weeks (they were both flabbergasted that the gun wasn't working for me, and were determined to figure out the problem). This level of service blew me away - if you have a problem with your Glock, Gaston is not going to call you back ten minutes after you left a message with the company secretary (and then spend a half hour on the phone with you). Like I said, it just blows me away.
The Kahr polymer PM9 is virtually the same size as the aluminum-framed Rohrbaugh (the Kahr is a little thicker, and a teensy bit longer, and weighs a bit more). I opted for the Rohrbaugh because it has second-strike capabilty (I haven't needed it yet, though, in about 350 rounds) and because the PM9
feels
bigger to me. Also, the 200-round break-in business with the Kahr put me off (I feel like a company should deliver a working gun out of the box - what am I, on their payroll to put the last touches on the gun to get it working?). As I said, my Rohrbaugh worked flawlessly out of the box . . . but I wound up spending a fair amount of time figuring out why it wasn't working for
me
and my weird grip - so I spent the same 200 rounds figuring out how to work the gun anyway. Most folks (with normal hands) wouldn't have the issue I had (and, if you find that you do, just be sure to get a lot of lateral pressure on the gripframe, and it'll take care of it).
The R9s retails for about $900-950. The wait time is about a year from the factory, but I got mine in one day from an outfit in Arkansas for about $850 (plus shipping). (Mine is actually my tenth anniversary present from my wife - she's a sweetie!) The Rohrbaugh pistol comes in a logo'd plastic hard case with two mags (really high-quality) and an extra Wolff recoil spring. (Rohrbaugh recommends changing out the recoil spring after 250 rounds of shooting. I went a bit longer than that with no problems whatsoever, but why endanger your $1k pistol over a $4 part . . . .)