Discussion Starter
·
#1
·
Hello. I didn't have too much time but did manage to shoot the Model 64-2 snub.
All firing was done in double-action, standing and with a two-hand hold at 10, 12 and 15 yards. For some shooting at 45 to 50 yards, I did fire the revolver single-action.
This group was fired in slow-fire with the ammo being used and the distance on the target.
The lighter bullet 130-gr. Winchester JFP struck a bit lower but windage remained satisfactory. It was also fired DA in slow-fire.
Ditto on this target. An interesting thing is that I noted no difference in felt recoil from the Model 64 between this and the standard pressure LRN in the same 158-gr. weight. Such is not the case (for me) when shooting these loads through my considerably lighter Model 642.
At 12 yards, I practiced some "failure to stop" drills using both hands on the revolver and firing double-action as quickly as I could obtain a "flash" sight picture. I didn't have a timer but estimate probably a bit less than a second per shot starting from a low-ready position. Ammunition used was Remington's 158-gr. LSWCHP +P.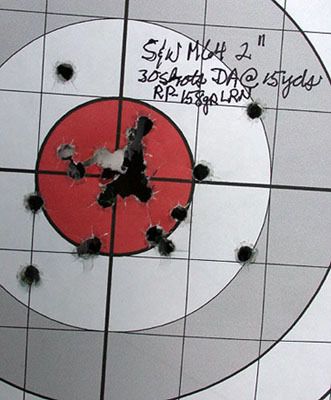 At 15 yards, I fired DA using a two-hand hold in slow-fire. Most shots grouped nicely but I did have some I blew. The Model 64 was doing its part; I just wasn't doing mine.
I also shot a few falling plates at about 12 yards and shot at approximately 45 to 50 yards using bits of debris on the firing range berm as targets. On these, I fired the revolver in single-action. Some hits were made but misses were not extreme; they were close.
The revolver was fired a total of 256 shots with varied .38 Special factory ammo I had at hand. There were absolutely no problems. Primer hits were plenty good and extraction an ease; no sticking cases.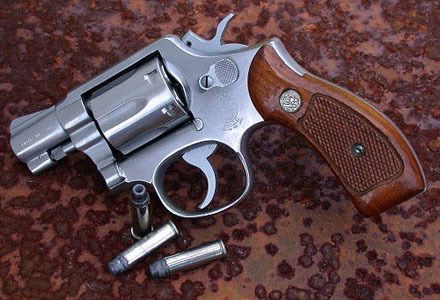 I rather enjoy this thing despite its size and weight for being "only a 38". For a snub, I find it exceptionally easy to shoot and expect that it will be shot quite a bit in coming years. If you happen to like snubs in .38 Special and get a chance at one of these, you might give it serious consideration.
This snub was bought for a couple of reasons. One, I happen to enjoy shooting revolvers as well as semiautos and I do find the snub .38 to be a viable "serious gun" with appropriate loads. I was more than a little tickled to find that the POA = POI with the Remington 158-gr. LSWCHP +P. After a bit more shooting with this little gun, I'll be ready to trust it and when that day comes, it will likely be loaded with the LSWCHP +P for "serious" purposes should one present itself... but mainly I find it a heck of a lot of fun.
Best.