Discussion Starter
·
#1
·
(Edited to add one more target. Just scroll down to the bottom.)
Howdy folks,
Well folks last week proved to be a very nice week for me, at least in part. I was able to drive about two hours north of me and finally meet Mr. Angus Hobdell, the owner of Ghost Products Inc., the captain of the Team CZ-USA shooting team, and an extremebly competent CZ gunsmith. I had shipped him my 75B in 40 along with the Kadet Kit (22lr upper complete slide unit for proper fitting to the 75B frame). During the course of our contacts it was agreed he would work his action magic on an SP-01 he had in inventory and would sell it to me when I came to pick up the weapons.
Not only was I impressed with the quality of the work he had done on both pistols for me, but Mr. Angus is a true gentleman. We sat around for far longer than I had expected, talking guns and shooting. He also produced his two match pistols and insisted I try his actions and offer my thoughts. The longer we chatted the more pistols he produced.
The bottom line for me is I am very impressed with both Mr. Angus and the quality of his work. Forgive what some may see as a plug, but I think when someone does good work, they deserve to be recognized for that. He admitted his attitude was if he was not happy with the work he had done, he did not expect a customer to be either - so he simply kept at things until it passed his standards. He does two basic levels of action jobs. What I call a "carry" action, and his "competition" action jobs. I had requested his carry job on both pistols, and that is what he gave me.
The first chance I had to shoot either my reworked 75B or the new SP-01 was this past Saturday when my shooting buddy Mr. John and I made it out to our desert "range". He was kind enough to let me start out by shooting both pistols for chronorgraph readings and helping out by recording each shot for me. Once the chronographing was complete, we both set up our targets and just did the type of shooting we enjoy doing.
Those who have read my post on chornograph results from factory rounds, may understand my limited shade comment a bit better if this pic posts properly, lol. The pictures here are compliments of a very close friend who recently sent me an early Christmas present - a very nice and very user friendly digital camera
. I was impressed when I learned to use an electric typewriter, so this is a major step trust me folks.
Yes it is cetainly a bit "rustic" but for Mr. John and I, it does the job nicely. While It may look like sand, that is actually gravel, on what we affectionately call "the road to nowhere". We always pick up our brass and trash, and also make a point of collecting other trash left by anyone else. We just toss the trash into my dumpter on the drive back in.
I am being a bit lazy and will include a brief report of both pistols in one thread, since it will reduce the amount of typing I need to do. Since I am not really puter smart like a lot of folks are, doing a cut and paste is more of a challenge than I want to tackle if I can avoid it too, lol.
CZ 75B in 40 S&W:
I started off chronographing this one because I had already fired 700 or 800 rounds through it, all assorted JHPs of some type, and wanted to see how it would handle them post action job.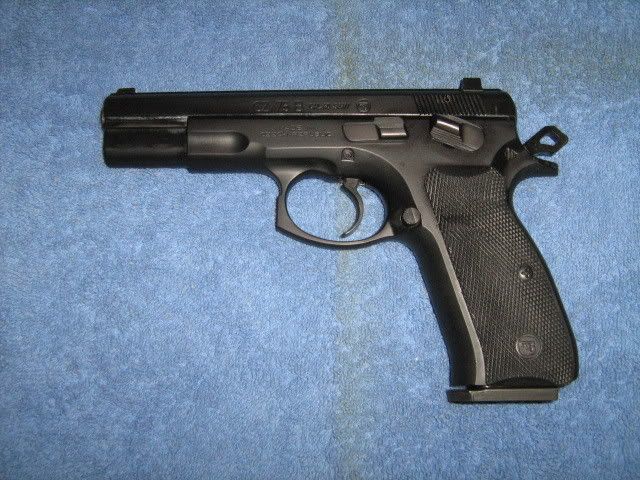 This is the reworked 75B in 40 S&W. I had included the P01/SP-01 black trigger with the pistol and requested he replace the silver trigger than came in the handgun. The black trigger was more akin to the short curved Sig trigger I prefer in my P226, according to CZ factory folks I spoke with. It also includes a different hammer, a heavy extractor spring, and his action magic.
For anyone trying to figure out the bumper pad in the pic, that is the factory pad for a Sig P226. I am very fond of this rubber pad and am very accustomed to its feel. I discovered with a little careful drilling to open up the size of the center hole, it would then fit perfectly on my CZ mags.
My buddy Mr. John had been holding and drooling over this pistol a lot since I had gotten it back in hand. He loves his FN HP 9mm that he carries as his primary handgun at work now. He carried an older BHP while working homicides for the police department he retired from. He then went to work for a state agency as a Special Agent with them. Because he had previously qualified and carried a BHP, he discovered he was grandfathered in with a BHP pistol and could still carry one if he wished.
When he told me that, and asked about getting the ambi safeties and nightsights installed on his older BHP, I told him to let me do a little research. Instead I orders a set of Trijicons to fit my FN HP MkIII, installed them, removed the mag disconnector, and installed the C&S wide, smooth trigger. I left my Pachmayrs on them, and found my 9mm HP mag box. I added a few extra mags, including some Mec-Gar 15 rounders, and put the pistol in a gun case.
Mr. John has graciously agreed to play "postman" for me, running paperwork down to and back from my office when necessary. When I learned he would be qualifying the next day, I called him and asked him to stop by on his drive down to the office, as I had something for the postman. I handed him the FN HP, and said shoot this one tomorrow and be legal with it. That will let you leave your BHP original, as it should be left just as is in my opinion. This one will be a better carry pistol for you.
I had to bend his arm a bit, as he is like me. He does not like taking a pistol he has not paid for. But I did convince him. Well actually I think when he fired the pistol standing in my living room, from the look on his face, I think that is what really convinced him.
So when he picked up my 75B earlier this week, his first words were how much it reminded him of his HP in his hand, and he wanted to shoot this one a lot. So after finishing the chronographing work which he so kindly tolerated and helped with, I handed him the 75B and said go shoot it while I figure out this camera a bit.
Shoot it he did too. Probably another 200 rounds of various JHP loads, and he did not have any malfucntions, nor did I during the chornograph work. Mr. John, another LEO who I shared my office with (before I went out on injury leave) is another combat/survival shooter. He prefers to shoot rapid multiple strings of 2, 3, 4 and 5 rounds. Then he will reholster and start again. He shoots at a nice pace, but does not try to set a land speed record either, but I would call his tempo fast and consistent.
When he finally laid the 75B down he said, "you dog you, I have got to get one of these now, if you can get your man to do his same magic on mine now". He had already said earlier in the week he wanted a 40, so he could convert it to 357 Sig. He has been very impressed with my various pistols in 357 Sig, including my FN HP 40 with that barrel. After shooting the 75B in 40, we discussed he might not be grandfathered in with it in SA only. So his solution would be to get the exact model I have, and just carry it cocked and locked.
He told me he had just shot his best ever 40 target and wanted me to go look at it. Mr. John had been shooting his strings from 7 and 10 yards, and I was impressed with his group with this pistol.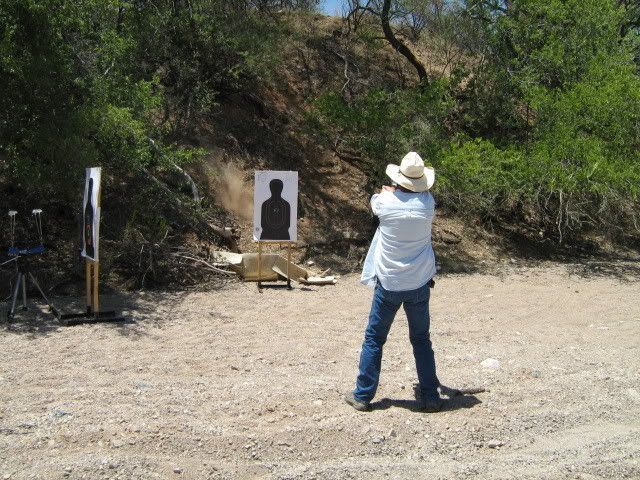 This one just gives you a bit more feel how "rustic" our set up is, lol. He was standing at our 10 yard line when I took this pic.
This pic shows his finished target. Mr. John is a good shot, but to be honest, I don't think I have ever seen a target he shot using any 40 pistol that has looked this good before. Especially one where he was shooting at his normal firing tempo. I thought I would take the pic to save it for both posterity and him.
We are getting close to the 1000 round mark in this one. But since I have had it worked on now, I will basically start my count over for my personal standards before carrying it. So now I am around 250 or so without a malfunction. Besides I will enjoy putting more of my rounds, especially my reloads, through this one too.
CZ SP-01 in 9mm:
This pistol is essentially the full size, steel framed version of the P-01 pistol. It includes a full dust cover and tactial rail, which is a feature I have grown increasly fond of recently. The grip shape is just different enough to be noticeable after shooting the 75B, but while I was not immediately taken by it, the more I shot this pistol the more it grew on me.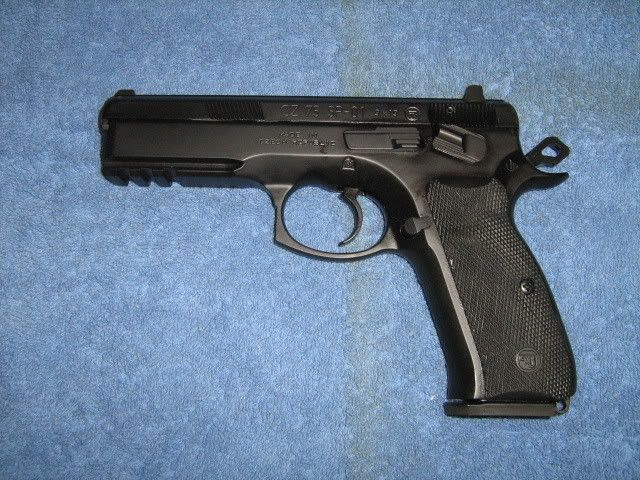 This one comes with the black, more curved trigger as standard. Mr. Angus added his competition hammer, a set of nightsights, and worked his magic for me. The first rounds I shot through it were the assortment of JHPs I chornographed, and it never stuttered.
Then I joined Mr. John shooting this one from 7 and 10 yards, while he gave his FN HP a work out. I did feel the grip was just a bit different in my hand from the 75B, but the more I shot the SP-01, the more it grew on me. I used primarily the 124 gr FMJ Nato loads I chronographed, which are fairly stout loads for a 9mm. But in this steel framed pistol, with the extra weight from the full dust cover and rail, I found it to be very easy to fire rapid but tight groups with it. I ran about 500 rounds through it on paper, and again it did nothing but fire each time as expected.
I did save a target I had fired, but left it in the back floor board of Mr. John's truck. I will have to wait until he drops it by on his way to work this week, and I will edit this post to add it. Folks don't expect my target to look like those Mr. Steve fires, but for shooting largely with a flash sight picture at 10 yards, and mostly just the front sight at 7 yards, I was very impressed with the accuracy I got from the pistol. Again, I do not try to set land speed records, but I would describe my normal firing pace as being a bit faster than Mr. John's.
For those who are curious about how the two pistols actually compare, I did take one pic of them side by side.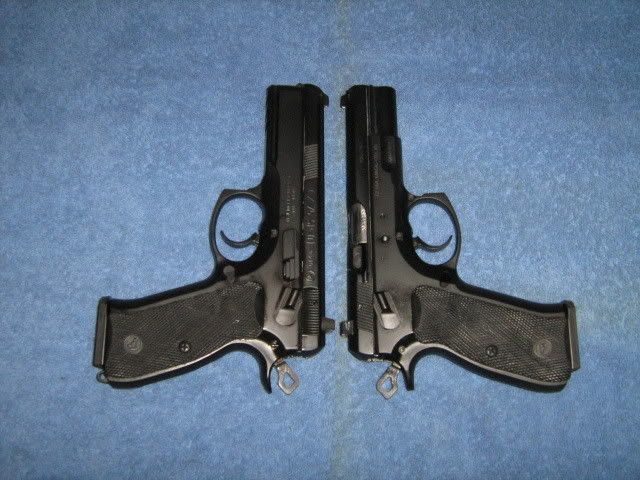 The SP-01 is on the left, and the 75B on the right. They are very similar pistols, using the same barrel length, and both with steel frames. The SP-01 has a larger beavertail on it as this pistol was largely designed for police carry, but has become fairly popular as a compeition pistol as well now. After shooting it now I can see why some match shooters would be drawn to it too.
Another nice plus of the action work done for me by Mr. Angus, was he insured the two opposite slide units would play well on the other frames. So when I finally get a 357 Sig barrel fitted to my 75B, when I want to I can put that slide on the SP-01 frame, and have a bit more muzzle weight and the tactial rail too. With both slides swapped, I will still have two fully functioning pistols, as Mr. Angus has done this on his own. That was where I got the idea from of being able to have basically a 75B in 40 or 357 Sig with the tactical rail and full dust cover. At present CZ only offers the SP-01 in 9mm, so it gave me options not otherwise available.
I did not try swapping out frames, nor did I try the Kadet Kit on Saturday. We both were having such a good time, we wanted to shoot longer, but the heat began to get to us. Our groups began to open up more than we liked and we decided it was time to pack things up, clean up our range, and head for some nice A/C, lol.
The bottom like for me is both pistols are keepers. If you have never had the chance to shoot a CZ pistol before, I would suggest you try to find either a range gun or a friend who has one. But it might prove costly if you do, as you may end up needing to add one to your collection to. I have two CZs now, but they will not be my last of this brand. Very shortly I will be purchasing another 75B from a close friend I have met here, who had magic done to his by another very well know CZ smith. That will give me a pair of 75Bs in 40.
Mr. Angus was kind enough to agree to work his magic on any CZ pistol I wanted in the future, and even agreed to get them from the factory if I did not find a good deal on them locally. I will be getting his magic worked on at least 2 more, not counting the second 75B 40 I will be buying shortly.
Yep I admit it, I do have a major case of CZitis. I love my HPs but my shooting grip causes me to raise the slide release lever during a mag now. I was happy to discover I do not have that problem with either of these two CZ models. So they will become my replacement HP cousins now, and I can carry them when the urge strikes. I just have to finish putting enough rounds through them that I am confident with them. But that will be done in short order I think, lol.
*************
Howdy folks, just wanted to add my first target fired using the SP-01 9mm that day to the post. Mr. John was kind enough to bring it over. I am still trying to figure out my camera a bit, lol. Plus I had one of my cats trying to help me out initially. I ended up taping it to a door to take the pic to post here.
Nothing spectacular, but I do think it speaks well of the accuracy a decent shooter can expect using the SP-01. Again I was shooting Winchester 124gr FMJ Nato loads, at a fairly fast tempo. Shooting 2, 3, 4 and 5 round strings, without trying to set a land speed record, but fast. The head shots were just part of a body armor drill I ran while shooting some strings at 7 and 10 yards.
At 7 yards I shot a bit higher in the chest, then lowered my point of aim simply so I could see what I was doing at 10 yards. The lower portion of my chest group was fired at 10 yards.
Both the weight of the full dust cover and my grip combined to make for very easy quick follow up shots for me, as they both helped to reduce muzzle climb. This model was designed as the full size steel version of the P-01 which has now replaced the 75B the Czech police originally carried. The SP-01 is basically the full size version of the P-01 on a steel frame, and is targeted at the LEO market primarily. Competition shooters have taken a liking to this model as well, and I can understand why they like it.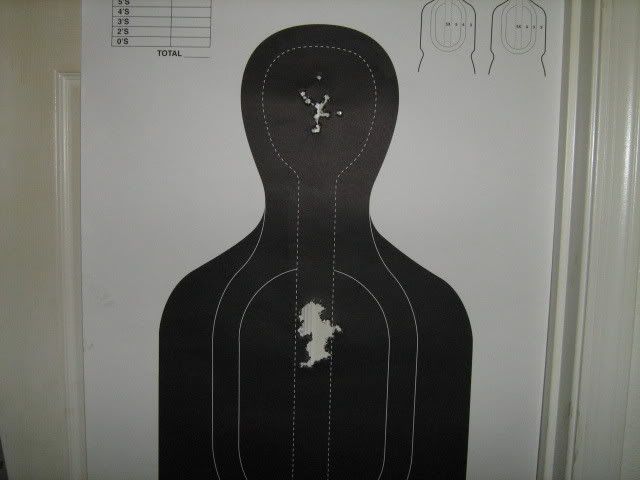 twoguns