Discussion Starter
·
#1
·
Hi folks,
Well, last week I made the mistake of stopping in to a gun store near Gil's while on the way over to his house. They had lots of the usual stuff, but nothing too exciting. But
way
in the back of the furthest case, there was a Beretta 87 BB.
Neat. I remember when they came out in the mid-'80s - back then I never could see why anyone would want a .22 that was slightly larger than a Walther PP, particularly when Beretta made .380s that were the same size. They sold pretty well for us at the gun store where I worked for a couple of years - I still never got it. Why buy a .22 that cost so much and was just a plinker?
Anyway, something had changed in my head by the time I saw the gun last week. Wow, did it look nice to me. Turns out it was a NIB gun bought by a collector back in '89 (that's "AU" for you Beretta proof code collectors), and kept in a safe ever since (can you believe people actually
do
this? I know they do - I used to sell to them - but it just seems
nuts
!
Shoot
that gun!). The walnut stocks called to me, the bluing gleamed. I held it for a moment and - ah! - it just felt made for my hand. The store was closing for the evening, though, so I handed it back and went over to Gil's.
I couldn't get the thing out of my head all week. I had Gil run in and check on it. I did online research and confirmed that it was actually priced pretty cheap for one of these guns (discontinued since '00). And, hey, I've got my 40th birthday coming up in about a week - I talked it over with my wife, and she told me to go for it.
So, I brought it home.
I plan on taking it to the range later today, but I wanted to show off some photos that I took of it this morning. (Before anyone asks, those are figs from the fig tree that came from the back yard of my great-grandfather's house in Italy - he took a cutting with him to America, and I've got one of the cuttings from
it
.)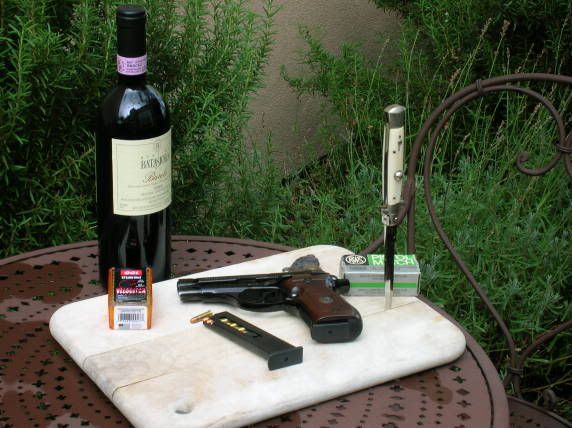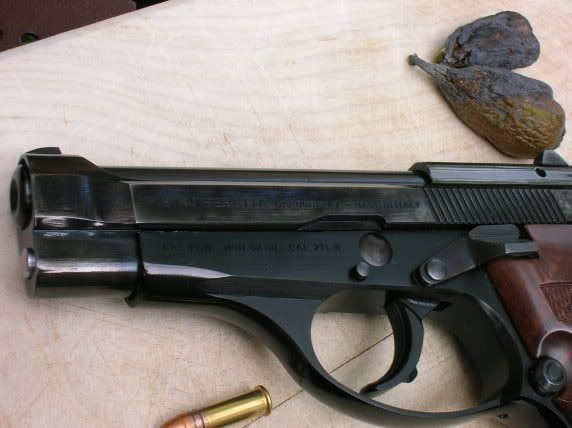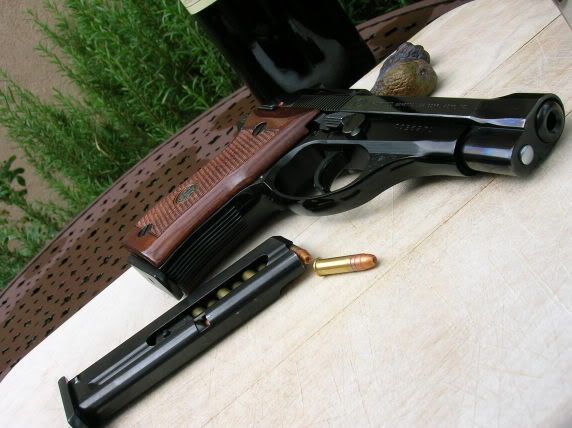 And, no, I won't be carrying it cocked and locked.