Discussion Starter
·
#1
·
Hi there all,
First off, I began my feeling the symtoms of "SIGitis" last summer while out of the country and began my search for a fair deal on SIG handguns.
After doing a little research, I discovered that my local gun dealer was a authorized SIG Master Distributor and could acquire SIG's with a significant savings.
With the recent disposal of two handguns in my collection of many, my dealer asked me very slyly "
how did I want to share the disbursement of my earnings
, i.e. buy another handgun or two?"
Without hesitation and with the numerous reports that Mr. Camp has written on the SIG DAK series of pistols he acquired and reported about, I said, "order me up a SIG P-226 CPO".
After a lengthly week and a half wait, the pistol arrived today while I was at the indoor range practicing my point shooting with my diminuative S&W 642. When my name was called, I walked excitely to the counter. From the overnight box, the salesperson pulled the red cased pistol.
When I opened the box and removed the plastic shipping wrapper I was suprised with pistol that appeared Brand New and not wearing a mark of someone else's use.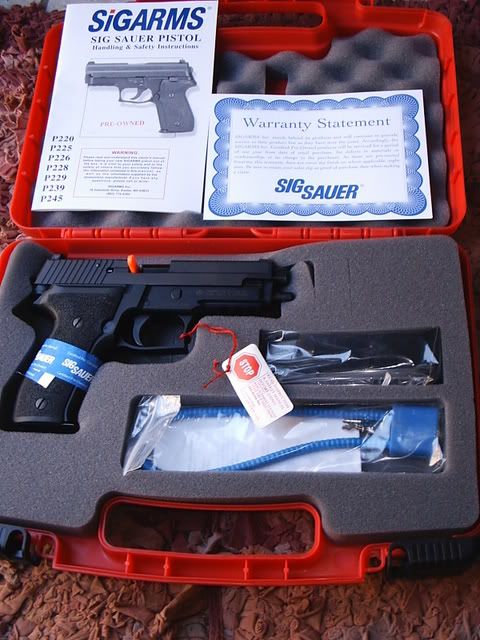 First, I didn't expect the pistol to have the newer frame style with rail. I honestly thought it would be one of the older style alloy frame pistols. Nice feature I thought and wondered if the pistol had been rebuilt on a new frame.
Secondly, the SIG had the tell tale wrap around the grip CPO sticker. During my early research, I learned that SIG offered their Certified Preowned Pistols in different grades from there factory in Exeter, N.H. I was unable to ascertain what the grades actually were and still at this writing do not know.
Here are the specs on the pistol from the SIGARMS web site:
[i:vowqip0b]Specification
Caliber 9mm, .357 SIG, .40 S&W
Trigger Pull DA/SA 10.0 lbs/4.5 lbs
Overall Length 7.70