Discussion Starter
·
#1
·
Hi folks,
Here are a couple of pics of the S&W 65-5 (K-frame, stainless, .357 magnum, fixed sights) with a 3" bbl I picked up yesterday for $350.00. (These were taken after me firing it and cleaning it.)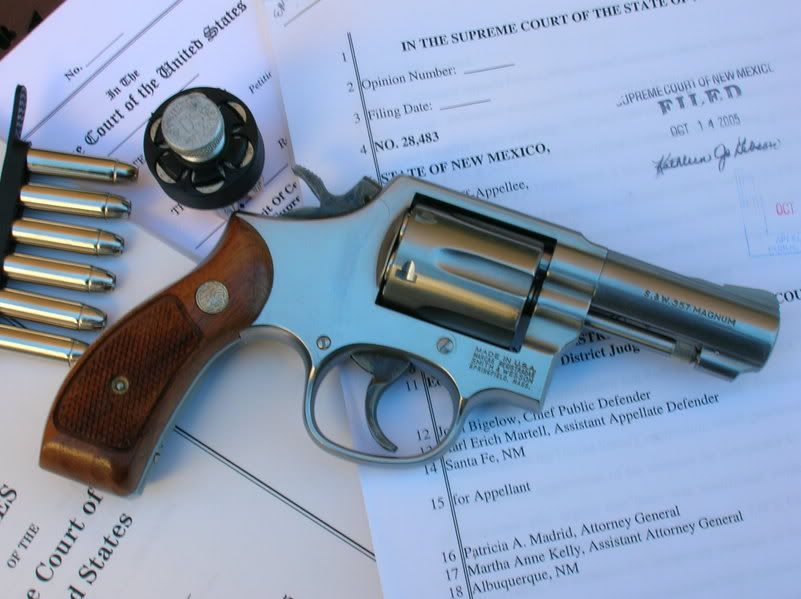 I took it to the range this afternoon, and ran an assortment of ammo through it. Here are the chrono results (5 shots each):
Sellier & Bellot .357 magnum 158-gr JSP
average velocity 1077 fps, extreme spread of 37.47, standard deviation of 13.82.
Remington .38 spl +P 158-gr LSWCHP
avg velocity 842.3 fps, ES 31.49, SD 12.88
Federal .38 spl +P+ 147-gr Hydra-Shok
avg vel 896 fps, ES 25.4, SD 8.67
Winchester .357 145-gr STHP
avg 1175 fps, ES 84.78, SD 32.93
Handload in .38 case (5.1 gr Unique/147-gr Rainier plated DEWC seated flush)
avg vel 967.5 fps, ES 47.83, SD 17.52
Handload in .38 case (6.0 gr Unique/158-gr LSWCHP)
avg 883.3 fps, ES 85.12, SD 39.03
Accuracy with my Rainier/Unique handload was superb - all touching at 10 yds. They were also decently powerful (with only moderate recoil) - I wouldn't feel at all underarmed with these. The S&Bs recoiled so much that I was stunned to see that they actually moved out pretty slowly. The LSWCHP/Unique handload was shockingly light recoiling, but was smokey beyond belief and wildly varied in velocity.
Despite the wide variation in velocity (from a high of 1210 to a low of 1125 . . . with two others at 1189 and the final shot at 1160 fps), I think I'll go along with the crowd and carry the STHP .357s in this short-barrelled revo.
I plan on carrying this revolver IWB at 10:30 (I'm a southpaw). Right now I have an old beater Brauer Bros. suede IWB that I used in the '80s with my Model 13. I plan to get a nice hard IWB, but was bummed to see Don Hume doesn't make the 715 for the K-frames. Any ideas on where to go to get a Summer Special type one made fairly quickly (I don't want to wait 3 months for Sparks, or 3 years for Matt Del Fatti . . . although I love their stuff)? Does HBE do revos, and will they do them reasonably quick?