Discussion Starter
·
#1
·
Hello All,
I wanted to relay the story of how I aquired my first CZ 75 B and the steps I am taking in rehabbing an older previously owned pistol.
A week ago Friday, I had consigned a handgun at the local shooting range and called before leaving to pick up my check to ask the owner of the range if he had any CZ 75B's laying around. He replied, "yes, I've got one on the gunsmith's bench that I am getting ready to send out for repair". I asked, "how much do you want for it" and he replied, "it's broken, but if you give me $200.00, it's yours".
Well folks, dang rush hour traffic and all, I made it to the range in "record time" and went in to see what was what with the "broken" pistol. The owner led me back to the gunsmith's shop and tore the ticket from the gun, "ah, its got a broken slide stop and is missing the magazine". I did some quick calculations in my head and said "let's get 'er done" and went to fill out a 4473.
Believe me, I've been around a LOT of handguns over the past 20 years or so. I took the 75B home and got out some cleaning supplies and tools.
The slide stop was indeed broken and still inside the the handgun. I took a punch and gently pushed out the lever and the broken piece. I then fieldstripped the gun and started with the cleaning routine. The barrel and internal parts were in sore need of cleaning.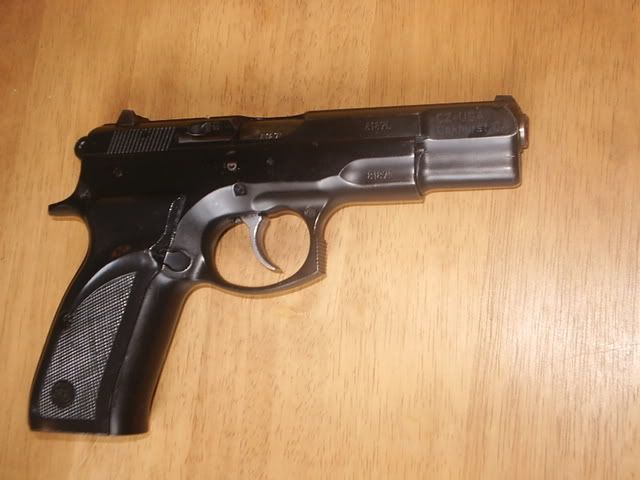 Shown is the 75B in the condition I purchased it in.
I cleaned it up and through the grime and oil shown a fairly well shot pistol with a very worn recoil spring and some slight peening to the barrel cam. Not to be disuaded I continued to work on 'er.
A very dear friend sent a package to me containing the much needed slide stop, new recoil springs, CZ rubber grips, magazines and new grip screws. I am very much indebted to him and here is the CZ-75-B in its "rehabbed condition".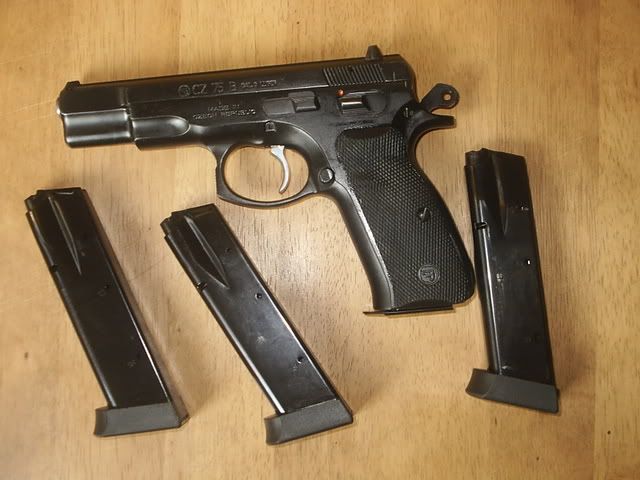 Here is the CZ in its newly rehabbed condition
The other night, I repainted the sights and now it is in functioning condition and ready for its debut at the Indoor Shooting Range. With the new grips, it fits my hand to a "T" and feels even more lively in my grip.
Soon enough, I will follow up with a range report. I am indeed excited about this newly aquired handgun!
Best,
Chris