Discussion Starter
·
#1
·
Hello. Many of the folks here have Hi Powers, 1911-pattern pistols, as well as some wheel guns. Many have an S&W revolver or two as well.
Grips or stocks are often a topic of discussion on wheelguns just as for self-loaders and it seems that some prefer really nice wood, while others are happy with rubber grips ala Pachmayr or Butler Creek. Others like wood for holster guns, but prefer a synthetic for pocket guns out of concern for sweat eventually darkening the wood...and it does happen. At the same time they profess
not
wanting rubber stocks as they're "too sticky."
I recently purchased a two sets of rather inexpensive grips for S&W revolvers. Both are for the round butt versions and one set was for the small J-frame while the other was for the mid-size K.
Shown on a Model 10 4", these are "Hideout" grips sold by Brownells under their name. These are available with or without finger grooves and in "smooth" or "textured" finish. Shown is the smooth finish, but that does not mean that the grips are slick. They offer plenty good purchase even with damp, sweaty hands.
From the front...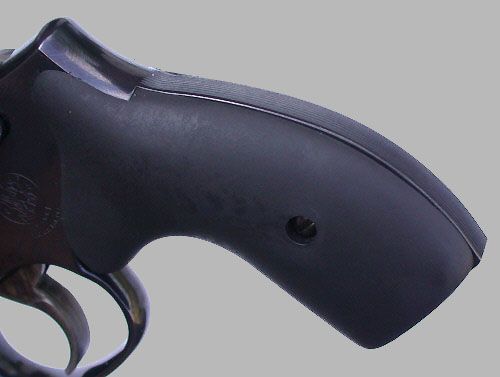 ...and from the rear...
Here is a set of the textured Hideout grips on an S&W Model 041. They have sort of a light "sandpapery" finish. I personally prefer the "smooth" option better.
From the front...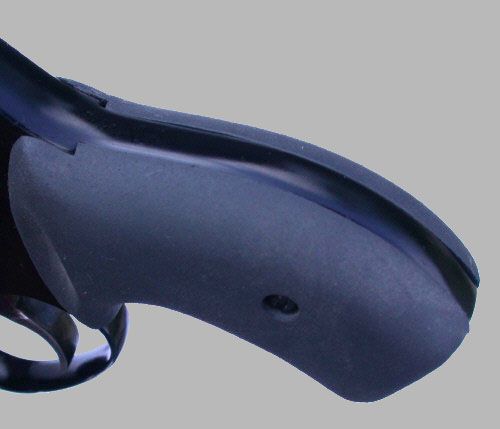 ...and from the rear. These are a tiny bit wider at the top of the rear backstrap and do tend to spread out the "kick" in that area of the hand.
Out of the bag, the K-frame stocks fit better than did the J's, but it was a minor job to help the latter. Opened up the hole on the inside of the grip so that the pin would more easily enter. This was on one side only.
I am more pleased than I thought I would be with these grips. Is fit comparable to a set of hundred-dollar customs? No, but it really ain't bad, either.
"Feel" and "beauty" as well as "function" are often very subjective. Speaking only for myself, I like the J-frame hideouts as good as the rubber boot grips that come on S&W snubs, not any better nor any worse.
On the roundbutt Model 10 (or any other K-frame), I like the Hideouts better than the factory service stocks and a Tyler grip adapter. That setup is great for me with square butt guns but not the round. The size/shape of my hand is such that I don't have the lateral control I want. Other than that the factory stocks/grip adapter is fine. For me, the Hideout is just enough thicker that this is not a problem. I don't think there will be any difference in concealability for those having this concern.
The best part is that
any
of these versions will set you back between about $16 and $18 for a set! They are made of high-impact nylon and seem plenty stout with no plastic "feel."
Both work with speedloaders but were I putting a set on a "serious" gun, I would sand down the top left of the Hideout grip just a bit to make it a little easier. They work fine, but there's little margin for error in getting to the cylinder with the speedloader/cartridge combination and just a fraction more leeway would be nice.
I've not had the opportunity to shoot the guns with the Hideouts on them extensively, but so far, no cracks or damage is obvious to the grips. I don't expect any and think these represent a good buy for some folks.
If interested, you can go to
www.brownells.com
and then do a search on "Hideout" and you will see them. Sadly, they are NOT offered for the N-frames.
Best.