Discussion Starter
·
#1
·
Hello. When I was younger, single, and essentially spending my money on only guns, reloading supplies, and ammo, I tried many, many, many handguns. Some I still have. These were the ones that surprised me. Though my favorite
types
of pistols quickly became 9mm Hi Powers and .45 1911 pattern guns, I also had amassed quite a few that simply did
better
, significantly better, than I'd expected. I still have some of those and continue in this vein today, though I am not so
driven
to try and own each and every new gun that comes down the pike.
Anyway, here are some handguns, pistols & revolvers, that worked their way into my stable and that I have no intention of getting rid of:
This S&W Model 642 is the first stainless in the Airweight line that I ever owned. I simply preferred blued guns and normally carried either a Model 37 with a home-bobbed-recontoured hammer or the blue steel/alloy frame Model 042/442. I finally gave into the stainless steel's easier maintainance against rust. The surprising thing is that I now pick up an extra stainless/alloy Airweight when I find one like new and at a very decent price! I have enough of them to equip an octopus, but never would have considered one had it not been for that first Model 642.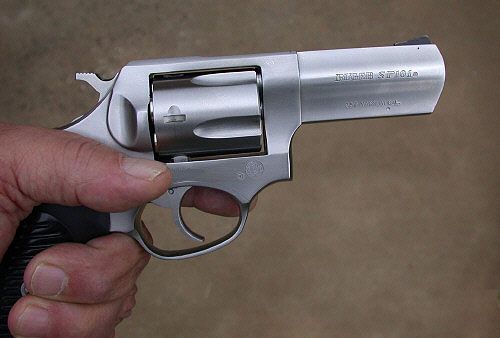 I wound up with this Ruger SP101 after several months of search for a like-new 3" Model 65 (no lock) to augment my 3" Model 64. The surprising thing about the little Ruger is that I actually like it better! The DA pull was initially not as smooth as the Smith, but it got quite nice and I could stage it quickly for rapid DA shots. The factory grip fits my hand perfectly and this one is stock as a stove other than my smoothing the edges of the trigger. I expected it to be "just" a car gun or something from the second tier in the long run, but it surprised me and has become quite a favorite.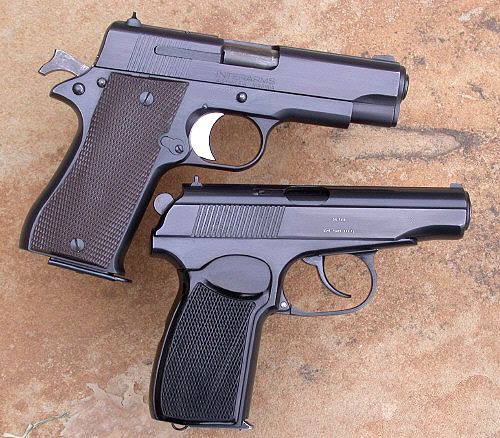 Both the Star Model BM and the 9x18mm Makarov have proven themselves to be quite good little pistols, particularly when considering that both could be had for under $200 not so very long ago. The little Star 9mm has proven itself a reliable little thing (except with Golden Sabers which it absolutely refuses to feed) and the Makarov feeds well and groups far better than expected. "Richard," who posts here and elsewhere, kept singing their praises so I wound up with a Bulgarian and latter a couple of East Germans.
I enjoy shooting them quite a lot. Both of these little things seem to offer considerably better performance that I initially expected.
This early Taurus PT92 has never missed a stutter. It does not have the tens of thousands of rounds downrange that my bevy of Hi Powers and 1911's do, but it has been shot quite a bit. The fixed sights are exactly "on" and it groups pretty well. I'm not a big fan of this Beretta/Taurus design, but I seem to just be unable to get rid of this one. When I bought it, I figured I'd shoot it a bit and trade it off. The surprise is that I just cannot do it.
This Star Model B 9mm was purchased when I saw an ad in the "American Rifleman" offering both them and the Super B (brand new) for sale in the US at very good pricings. It also said that these were "last run" guns. The first centerfire autopistol I bought years earlier was an older Star Model B (NIB) for the princely sum of around $75.00, including a box of ammo!) This particular gun's fixed sights hit extremely high so I had Lou Williamson install some Millett adjustables. The gun groups pretty darned well and has been reliable. I spent more customizing it than I did for the gun, but the slim Star autos just have a certain "grace" about them for me. I would not be afraid to use this one in a fight. This one surprised me in that I really didn't expect to do much but shoot it now and again, but I just liked the gun so much that I wanted it "upgraded" and have never regretted it.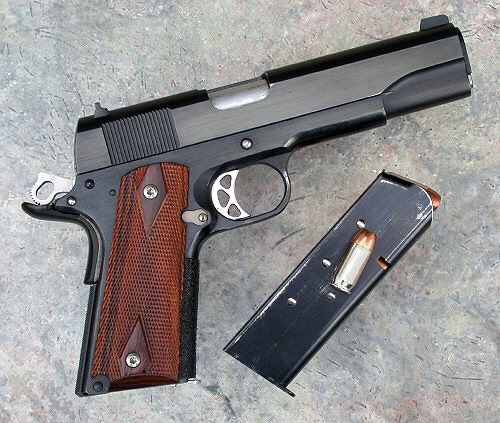 This Norinco 45 was a "shooter" from the get-go. The sights were too small for me and not regulated to the POI, but I home-tinkered this one, but did have a gunsmith (Scott Mays) install the fixed sights which are regulated such that POA=POI. This one groups decently, but nothing special. Its reliability has been great. The surprising thing to me is that I like it as is and am not inclined to try and tighten up its groups. It does around 3 to 3 1/2" @ 25 yards with most loads.
A while back I did an article in a gun magazine about Capt. Dave Sample's Patriot on-line class after handling/shooting/trying-to-steal
a friend's gun that had been made in that proceedure. The gun was well-fitted, grouped like a bat out of you know where, and was reliable; it still is. When my friend and his son decided to build another gun each, I was invited and jumped in. I went for a long-slide .45. The surprise is that it works perfectly, groups very well, and has become a most favored pistol! I was afraid that I'd wind up with an expensive gun that didn't work. Surprise! I was wrong. I am exceptionally proud of this pistol. I just have a "thing" about long-slides and that I have one with about 90 hours of my fooling around with that ACTUALLY works, makes it even better. I am TRYING to resist the urge to do another.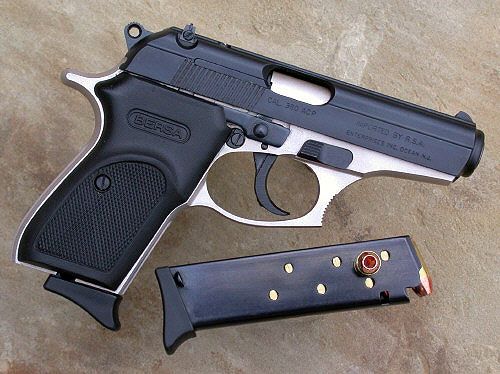 Though not a fan of the .380 or 9x18mm Mak cartridges, I gotta say that this little Bersa surprised the heck out of me. It has never malfunctioned and the sights are dead-bang "on." The price was very reasonable and the DA/SA trigger pulls are better than on my Walther PP and the Bersa doesn't bite me (slide bite) as does the Walther. I may not be a fan of the cartridge, but I am a fan of the Bersa 380.
This S&W Model 24 was purchased used, but like new at a very good price. I had always liked the .44 Special round (handloaded) but was not prepared for how "taken" I wound up being with this S&W N-frame. It is a pleasure to shoot and with "honest" .44 Specials, I don't think it is "lacking" in the power department for critters in my part of the world. With loads it "likes", it's accuracy has been astounding...at least to me.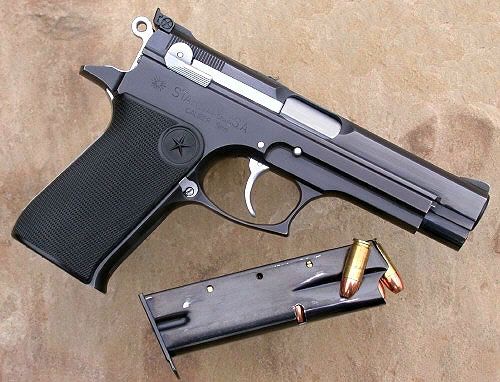 This Star Model 28 has been customized by Lou Williamson. Large and heavy for caliber, this 9mm groups very, very well. It is like shooting wadcutters from an N-frame S&W. It's inherent accuracy and single-action trigger pull both surprised me greatly. The former can be exceptionally tight with loads it likes while the former IS exceptionally light and clean.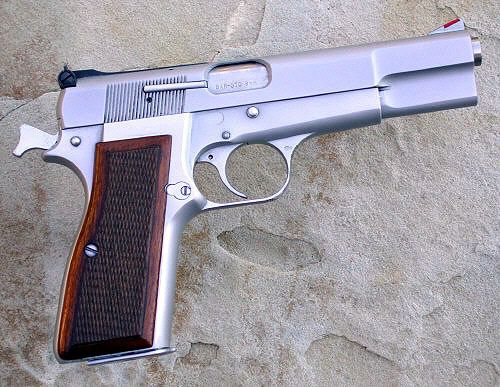 This customized Hi Power was my first and I call it "Number One." It is not surprising that I like the old thing greatly, but the two best shots I ever made were with this pistol, one right after the other, and both shots were witnessed by 2 other people. They were surprised...but not as much as I was, but I lied and said something like, "What? Don't ya'll do that with your guns? Nothing to it." I am not going to mention the shots here for they were probably luck mostly, but it is danged surprising when it happens twice in a row! (This pistol was also sort of a "surprise" to a would-be burglar one night!)
How about you? Do you have any handguns that have surprised you good or bad?
Best.