Discussion Starter
·
#1
·
I just about choked when forum member Gil showed me the Tanfoglio/EAA polymer 9mm Witness he just got from CDNN for $249.
I'd seen the ads, and wondered about how they could sell a pistol evolved from a CZ for so little. Frankly, I thought quality must be low.
Man, was I wrong!
The gun was gorgeous. Gil hasn't fired it yet, but it came with a 13-rnd mag and a 16-rnd mag (I believe it was supposed to come with 2 13s - he got a bonus). Extra mags weren't much extra.
Here are a couple of shots showing the Witness next to my 1076 to give you some idea of scale.
As you can see, this "compact" Witness (3.6" bbl) isn't super-compact, but it's really pretty darn perfect in the hand.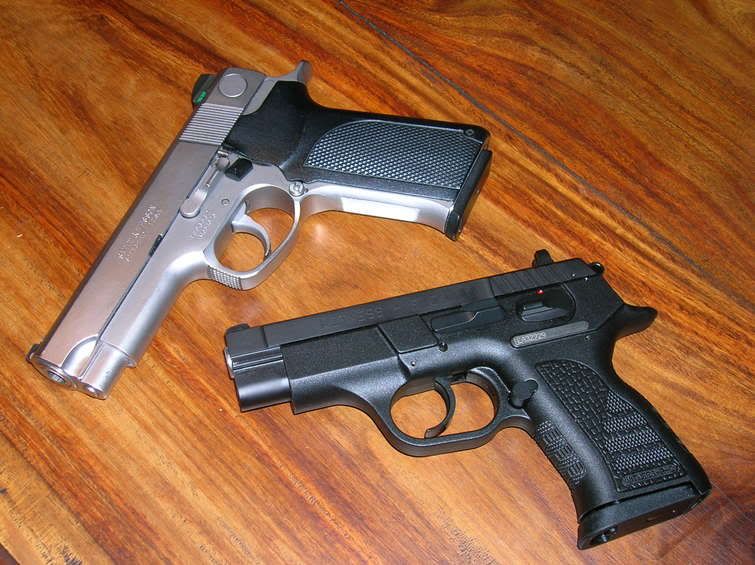 Here's a shot of the business ends of the two guns (sorry it's blurry - didn't notice until I'd uploaded it). Bear in mind how remarkably trim the 1076 is - probably thinner than a 1911 with standard stocks. The Witness compares nicely. You should feel it in your hand!
I'd spent the day looking at Walthers before Gil came over. The Witness was better finished - inside and out - than any PPK that I saw that day. I took this photo thinking to show how the finish continued over to the inside, but I fear the photo doesn't do it justice. There were no machining marks. It was really amazing - reminded me of my Rohrbaugh . . . only considerably less costly!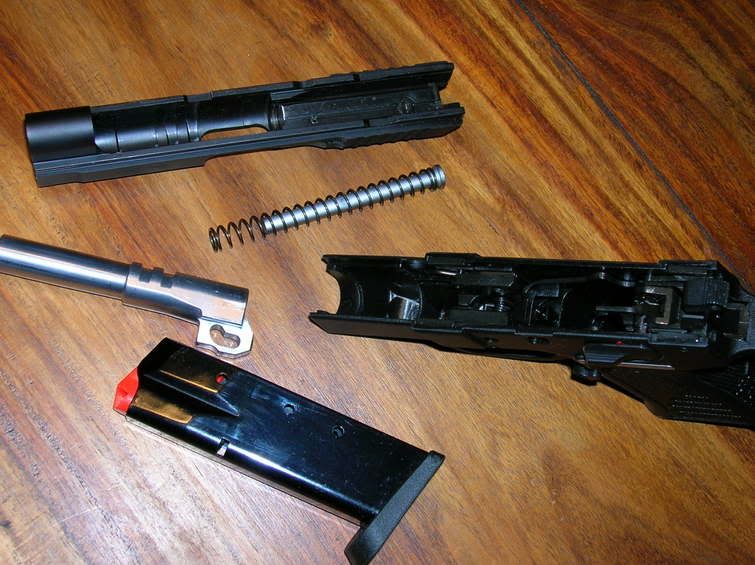 DA trigger-pull is nice, but not spectacular. SA is dandy. Better than the USPs I've handled. Here's a shot of Gil holding his new baby, to give you perspective for the size of the piece and also its thickness (or rather, trim-ness).
Hopefully Gil will favor us with a range report when he gets to take the gun out . . . and maybe he'll let me come along to test-drive the Witness. Personally, I'm just about flabbergasted at the quality this piece evinces, particularly given the phenomenally low price.