Discussion Starter
·
#1
·
Hello,
After posting my initial thread on the SIG P239, I decided yesterday to go ahead and get one!
This morning, I headed to the Myrtle Beach Indoor Shooting Range which is the local authorized SIG dealer to pick up and shoot the SIG that I have had my eyes on for some time now.
I am not a new owner to SIG handguns and have owned a P232 in the past, which wound up not "being my cup of tea" back then as the automatic would chew up the fleshy part of the top of my hand.
However, I was in the market for some of SIG's "engineered performance" according to their web site and also have developed a recent appetite for the .357 SIG round.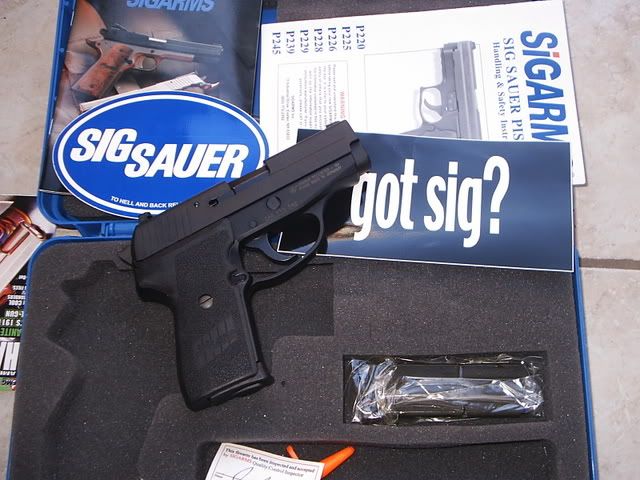 Here is the SIG as it comes packaged from the factory with one additional magazine, instruction book and some other "neat" collateral.
Upon examination, the P230 is typical of SIG's P-series of handguns and according to the manufacturer was developed as a response to Law Enforcement and Federal Agents as both a back up and off duty carry weapon. With its compact size, it appears that it does indeed fill this roll admirably.
Here are the specifications as listed on SIG's website:
Caliber 9mm / 357 SIG, .40 S&W
Trigger Pull DA/SA 10.0lbs, 4.5 lbs
Overall Length 6.6 inches
Overall Height 5.1 inches / 5.2 inches
Overall Width 1.2 inches
Barrel Length 3.6 inches
Mag Weight 2.3 oz / 2.4 oz
Sight Radius 5.2 inches
Sights Contrast
Mag Capacity 8 / 7
Available Finish Nitron, Two Tone
Grips Polymer
MSRP $739
CA Compliant Yes
The magazine capacity is 8 rounds in .357 SIG.
Now was the best part of the morning. Going and actually test firing my newest aquisition. In spite of my earlier concerns that the P239 would not fit my hands, I was astounded about how well balanced it was and the reach was just about "perfect" for my fingers. The grip indexed naturally in my hands assuring me of consistant grip retention from both one and two handed holds.
The Sig night sights contrasted very nicely in the darkly lit shooting range and were a relief for my aging eyesight!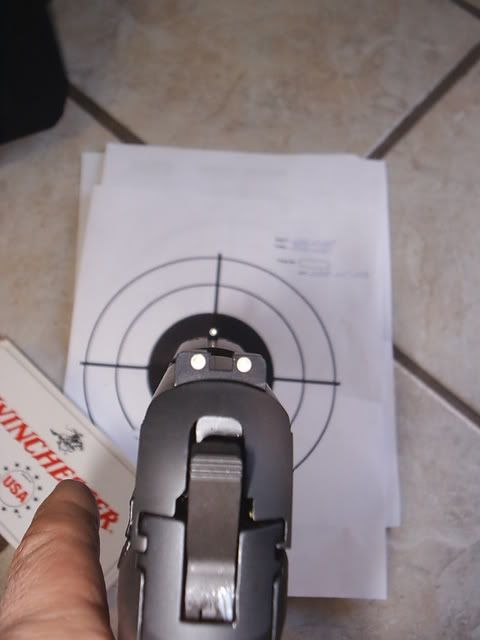 With a little trepidation, I loaded up both magazines with Winchester's .357 SIG 125 FMJ target/range ammunition (stock # 04309) and proceeded to the shooting line.
In spite of some of the numerous comments I've heard about the .357 SIG round, the load was not at all unpleasant to shoot and the "felt" recoil really was similiar to a "hot" 9mm round in one of my Hi Powers. All of the shots went to point of aim and point of impact. I could tell almost right away that this handgun could shoot better than I could hold it in terms of mechanical accuracy!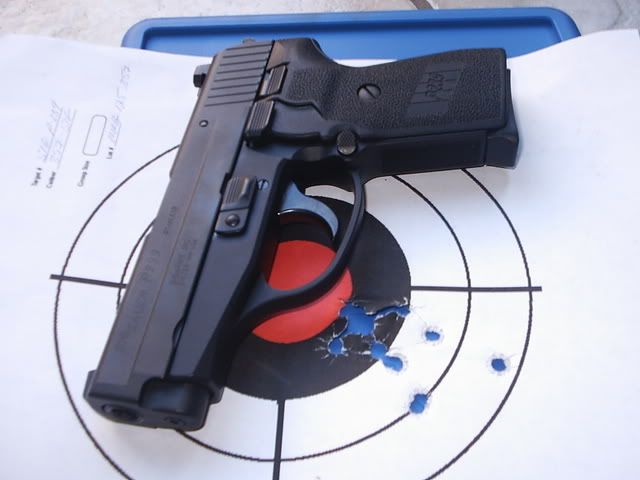 It was absolutely freezing cold in the range today when I shot this target! The temp was just above 32 degrees! The SIG shot POA/POI with the tested ammunition. Other ammo will be tested in the near future!
I estimate that the double action trigger pull was a smooth 6 pounds with a very nice let off and the single action pull at least 1/2 of that. The nice even trigger pull helped achieve some respectable accuracy from this handgun.
In summary, I believe that the SIG P239 will suit me well. I suspect that the SIGARMS company slogan of "to hell and back reliability" is going to true in the case of this SIG 239.
Chris