Hi there all,
I thought that I would weigh in on this one because I keep hearing that the .40 S&W is a "solution to a problem that didn't exist". Well, maybe not now, but back then there was a "percieved" void in "stopping power.
As my college professors used to say, "let me present my bias on the debate". Yes, I own and shoot the .40 S&W and up to throughout the time it was developed by Winchester and Smith & Wesson the search was on for a better performing LEO cartridge and delivery platform. Why? The lack of better performing 9mm loads and the majority of .45 auto pistols were hamstrung with reduced capacity single stack capability.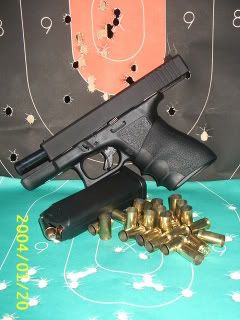 I think the next decade that the shooting/stopping stats will bear out that the .40 S&W does fill its intended niche.
However, over time we have seen vast improvements in the power and load development for the 9mm auto cartridge with higher performing powders and better bullet design.
I don't know what your local LEO carries in their holster where you all live, but here in SC more often than not it is a .40 S&W handgun.
I would enjoy starting a thread with a poll, "What cartridge does your local/state LEO carry?" Even with a minor sampling the results would prove interesting.
Love it, hate it, ignore it, the .40 S&W is here to stay.
Chris