Discussion Starter
·
#1
·
Hello. I "learned" recently from a gent who emailed me that "the revolver was obsolete" and no longer a viable defense option and that I should not be suggesting otherwise on my site!
Just for grins, today I took a used Model 10-6 HB that I purchased a while back to the range and timed some practical-type drills. I am not suggesting that how much these are or are not relevant to effective defensive shooting, only that this is what I did.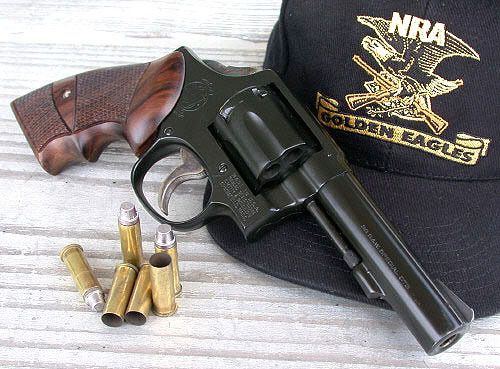 This is the revolver that was used. It is DAO and all shots were fired double-action. The stocks are from Eagle and are their Secret Service style.
Ammunition used was handloaded and represents (to me, at least) a round comparable in recoil to Remington's 158-gr. LSWCHP +P. It averaged just under 900 ft/sec from this revolver based on a 10-shot string over the chronograph screens which was the usual 10' from the muzzle.
Drills from the low-ready as well as presentation from the holster were done and were timed with a PACT timer, damned ol' merciless thing!
All shooting was done two-hand hold and standing at varying distances, none farther than 12 yards.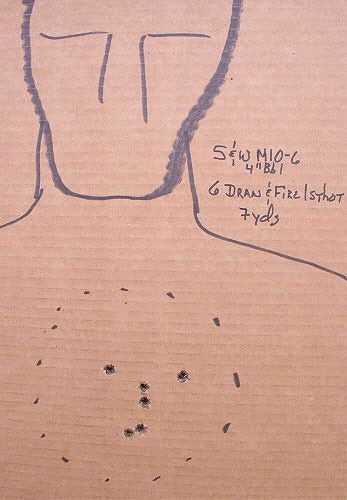 This group was fired starting from the draw with "hands up" in the traditional "IPSC Surrender Position". As can be seen, it was repeated 6 times. Average time was 1.40 sec per shot including reaction time when the buzzer sounded.
Other drills included the traditional "Mozambique", Mr. Higginbotham's "Handgun Controllability Drill" as well as drawing and firing one "rescue shot" at about 4 yards.
In short, other than a more limited ammunition capacity than most autoloaders, I remain
unconvinced
that a quality DA revolver gives up much, if anything in the real world. I am equally convinced that in the matter of reloading, given equal practice, a shooter can reload the semiauto faster. (At least this is the case for me.)
Today's exercises were not intended as any sort of training regimine but I do think that they are "doable" by most shooters and can provide at least an idea as to how viable a medium-power, medium-frame revolver is or is not for them.
For those who might be interested, the detailed report is here:
http://www.hipowersandhandguns.com/shooting_the_Model%2010%20Defensively.htm
Best.