Discussion Starter
·
#1
·
Hello. A member asked if I'd post some observations on the CZ Kadet unit. I did a brief write-up on this a few years ago, but cannot find it anywhere now, so I'll just post a new one.
The Kadet .22 Adapter kit comes with a slide/barrel assembly and one 10-shot magazine. The entire slide doesn't move. It remains stationary while only the rear portion reciprocates during firing, ala Smith & Wesson Model 41 and similar to the "bolt" moving in the Ruger line of autos in twenty-two.
The Kadet unit has been attached to a CZ-75 Pre-B 9mm and required zero fitting. With standard velocity ammo, it is reliable. The entire slide does not move. Only the rear portion and the barrel is fixed.
The front sight is attached to the slide in similar fashion as the current CZ centerfire pistols and it comes with an adjustable rear sight. This has held zero just fine over the years and the sight seems quite satisfactory. If memory serves, it required but a tiny bit of adjustment to zero the pistol at 15 yards. The barrel is steel and "encased" within the steel slide assembly. I believe that this unit will last for a lifetime of shooting.
Ejection is to the right and is positive, but my Kadet doesn't eject reliably with high-speed .22 lr. (The slide seems to "catch" the fired hull. Possibly a different recoil spring would solve this "problem" but for my purposes, it simply has not been worth the effort. It does what I want now.)
It works flawlessly with standard velocity so that's what I shoot in it. I don't recall any malfunctions and normally shoot the inexpensive Remington "Subsonic", which averages around 800 ft/sec from the gun. This one groups pretty darned good with about any standard velocity .22 lr cartridge.
The magazine appears the same externally as the Klinton-years 10-shot 9mm magazines. It is entirely different internally and holds 10 cartridges.
Feeding is smooth and w/o hesitation with this Kadet and I've fired many bricks of .22 lr through it. Frankly, I was surprised at how nicely it shoots, though I probably shouldn't have been considering that its barrel is fixed.
There have been no issues of the gun having to be kept meticulously clean for reliability. The most I fired through it was about 900 shots before I broke down and cleaned it.
My Kadet was an early one with the rounded firing pin. Now and again, I'd get a failure to fire with this set-up, but a call to Mr. Mike Eagleshield resulted in a "chisel-point" firing pin being sent. Seems that CZ was having problems with the round one similar to mine and upgraded the part.
It installed easily via the removeable firing pin retaining plate and there have been exactly zero failures to set off a round since.
The Kadet fit snugly onto my Pre-B CZ-75 frame, but required absolutely no fitting and the magazine fit fine and
is w/o issue. (They are quite easy to disassemble for cleaning.)
I've not shot this one in quite a while but if memory serves, groups hover around 2" at 15 yards standing, and using a two-hand hold...when I can do my part.
There are two other .22 lr shooters in my collection. One is the S&W Model 41. The other is a Kimber Platinum .22 conversion, which is actually manufactured by Ciener and is constructed primarily of aluminum, but with a steel barrel, extractor, and firing pin.
I believe the CZ unit to be of better quality, though I must admit to firing many, many, many rounds through the Kimber/Ciener conversion w/o incident. (It only "likes" high-velocity .22 lr ammo!)
The nice thing about the .22 Kadet conversion unit is that it allows one to practice inexpensively or pot small pests with the same frame and trigger-pull as on the centerfire version of the pistol. While the Model 41 and other competition grade rimfire pistols have very crisp tuned triggers, the CZ has a service trigger. Arguments can be made for either and for the purest precision I prefer the target trigger, but
most
of my shooting is with handguns having clean, but still service-grade pulls. This little gem lets me shoot and practice w/o "spoiling" me to the super-light triggers that simply are not usually going to be found on service or field guns.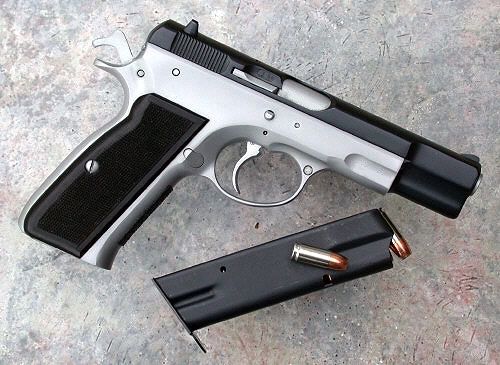 The Kadet is easily removeable and allows the pistol to go back to its original caliber and configuration very quickly. With the conversion unit, it can be easier for the serious shooter to really "learn" his pistol and master its service-grade trigger pull. Want to practice SA-only? No problem. The gun operates precisely as it did when NIB. This is a nice set-up for practicing DA-first shot w/single-action subsequent shots as well. I have not taken any small game with the conversion, but I am well satisfied that it possesses the accuracy to do so.
I've not kept up with the price on the Kadet, but if you like to shoot and want something for inexpensive practice, this is one I'd darned sure try. These are not considered firearms so the attendant red tape associated with actual handguns in some parts of the country can be neatly avoided while the buyer is essentially winding up with two pistols....or at least the ability to shoot two calibers.
CZ sells the entire pistol in .22 lr as well for those not wishing to go the conversion unit route.
I have no complaints with mine for the purposes for which it was purchased. It is a quality product and more accurate than expected.
In my opinion, they are a worthwhile item.
Best.