Discussion Starter
·
#1
·
Hello. I recently got my mitts on some of Corbon's new "Compact Gun Load" in .45 ACP. This
standard pressure
load uses the Barnes X-bullet as do the company's other calibers in the DPX line.
I did
not
concentrate on informal expansion testing. Others with access to ballistic gelatin are doing so, but when fired into water from a Colt Defender having a 3" barrel, bullets expanded without fail and looked almost like identical twins. This bullet normally penetrates between about 12 and 13" in 10% ballistic gelatin. Weight-loss is practically nonexistant.
This is Corbon's 160-gr. "Compact Gun Load" and an expanded bullet that was fired into water from a Colt Defender. Dimensions are 0.81 x 0.79 x 0.67" tall.
Even though this round is designed with the compacts in mind, I also fired it from a Commander and a Dan Wesson Patriot with barrels measuring 4.25 and 5", respectively.
Based on 10 shots fired approx. 10' from the chronograph, the following average velocities were obtained:
Colt Defender w/3" bbl:
1082 ft/sec
Colt Commander/4.25" bbl:
1178 ft/sec
DW Patriot w/5" bbl:
1217 ft/sec
Accuracy was very satisfactory and feeding was without hesitation in each of the guns tried. Actual muzzle velocities exceed the "1050 ft/sec" printed on the box. There were no malfunctions.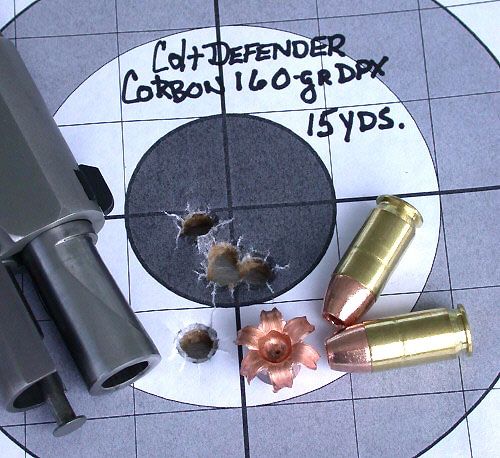 This 5-shot group was fired with the Defender at 15 yards. Shooting was done in slow-fire, with two-hand hold and from a seated position.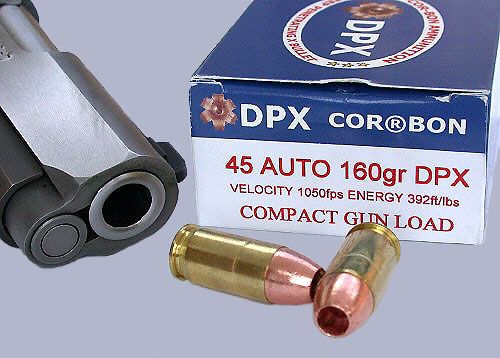 The "Compact Gun Load" is reportedly tweaked to provide performance meeting today's accepted expansion/penetration standards and at standard pressures, not +P.
For those interested in more detail, click on the link below:
http://www.hipowersandhandguns.com/Corbon%20160%20gr%20DPX.htm
Best.