Discussion Starter
·
#1
·
Hello. I am not sure why it would matter to anyone, but I recently received a couple of emails from two fellows very upset that I was "leaving" the Browning Hi Power and 1911 for other types of semiauto handguns.
It appears that because I was doing a post or two on other type semiautos that I was leaving the fold. One wondered why I even bothered with revolvers!
FWIW, if anything, the P35 9mm and 1911-pattern pistol in .45 ACP remain my top two choices for both fun and "serious" matters and rest assured that "fun" rates waaaaaaaaaaay high on my list of "pistoling thingys" to do.
At the same time, I enjoy shooting handguns and like to see what else is out there, but if push came to very hard shove and I couldn't have a stable of automatics, two that I would have would be the 9mm Hi Power and the good ol' "forty-five automatic."
The Mk III 9mm remains a strongly favored pistol of mine and one that I wouldn't be afraid to use in "the dark place." Even this relatively stock gun meets most of my "needs", be they real or imagined.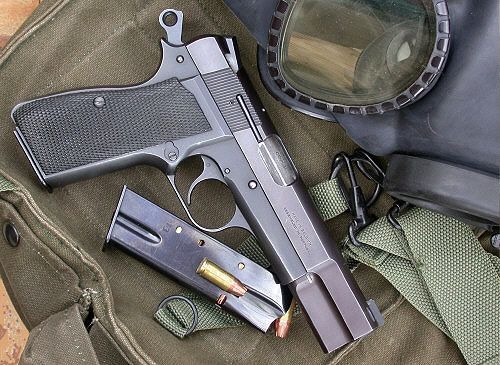 This one saw police service, both on patrol and in tac. I wouldn't have chosen it if I didn't think it could do the trick.
Mr. Browning's 45 pistol continues to be very popular. This old "Clackamas Kimber" has worked fine and can continue to serve well.
In my opinion, a nicely set up 1911 can be both utterly reliable and remains one of the easiest pistols to shoot at speed and still get very good accuracy...with either cast or jacketed ammunition.
I also have a healthy respect for the wheelgun and do prefer it in some scenarios, one being pocket carry. I enjoy shooting
no
handgun to any greater degree than I do the S&W Model 24 .44 Special with the 6 1/2" bbl.
Speaking only for myself, the pre-lock J-frame .38 Specials remain the top choice for a pocket gun. I have no problem with folks who have other choices, but for me, these work.
So while I may dabble around some with this or that, my single-action autos are not going anywhere.
Best.