Discussion Starter
·
#1
·
Well, after not having a 1 7/8" J-frame for about a year (thinking that my Kahr P9 Covert could replace it for pocket carry), I bought another of the RSR DAO 37-2s from a friend.
This one is used, of course, and came with the Spegel stocks. A friend from handgunplace.com is graciously hooking me up with some factory S&W wood stocks (I've decided that I actually prefer them), but these will do for the meantime.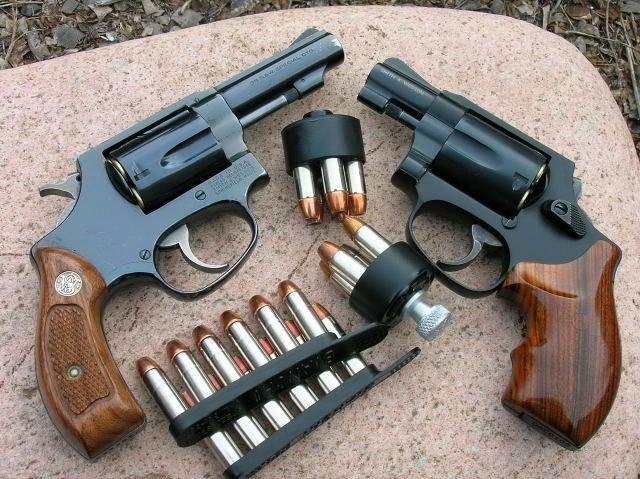 The gun is pictured with my customized 36-1 (serrations removed from trigger face, chambers chamfered, action job, partial hammer-bob, gold bead in front sight), another fine carry gun.
I'm carrying them both right now with my version of the FBI Load (those are 147-gr +P+ Hydra-Shoks in the 'loaders and strips): a Hornady 158-gr LSWC over Unique. It's good for about 920 fps out of the 3" - I'll have to see how it does in the 1 7/8" gun (now that Chrony has sent me my repaired chronograph - it went Tango-Uniform for no reason about three weeks ago).