Discussion Starter
·
#1
·
I posted an earlier thread asking about the price of a used Airweight <s>6</s>
38
snubbie I found in our local gun and pawn shop. I put some $$ down on it then, and this week went back to claim my prize.
Today (Saturday) I got a chance to run out back of the house and try it out for the first time. I live a bit out in the boonies, and am lucky enough to be able to shoot in what essentially is my backyard - just inside the far tree line I have a big dirt pile for a backstop. There was a gap between thunderstorms, so I grabbed a couple boxes of .38 ammo I've had for 10 years and hurried out to "The Range." (Scared up a deer on the way, and scared me too-almost stepped on her in the tall grass - she sprang up and bounced off thru the trees.)
I grabbed a couple pieces of cardboard box on my way out and set them up at 7 yards. Drew 1.5 inch square boxes to aim at, loaded up with Winchester 125 grain JSPs, and fired away.
First thing I noticed is that I have to cant my hand down just a bit to line the sights up properly. I first pointed the gun "naturally" and discovered the front sight was significantly above the rear notch. I have to ever so slightly push down to get the sights aligned properly.I am wondering if I can put a different set of stocks on it, that maybe go around the backstrap at the top so as to change the overall angle a bit.
Fired 40 rounds of the 125 JSPs. Seemed to pattern just abit high and to the left. I am thinking that the horizontal displacement may be due to right-handed me pushing the trigger a little. When I started revolver shooting some years ago, I noticed that I did that in double-action shooting, and had to work to eliminate it. Since I got my Hi Power a couple years ago, I haven't put in much revolver time, and I wonder if my bad habit has creeped back in. The elevation tho, I am wondering about. Seems to impact a little high whether I am shooting it single or double action.
Switched to Win 158 gr lead SWCs. Got similar impact patterns. Got off about 25 rounds, then had to head back in as the next thunderstorm was arriving.
Gun seems really light, with the aluminum frame, but didn't notice recoil being a problem -- these were not the hottest loads available by any means,of course. Noticeably lighter than my Taurus M-85, which is all blue steel. The Airweight did squirm a bit, I have to keep a tighter grip than I am used to with my Hi Power.
Now for some pix. I took these pix right after shooting, so there's still some powder residue on it.
Right Hand View
:
Ok, now for the
Left Hand View
--
what on earth
?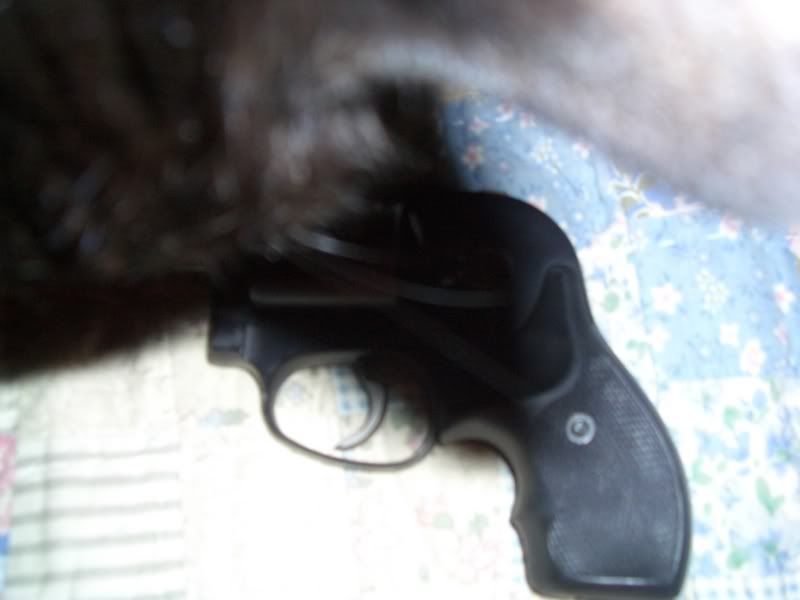 Aha. A passerby had to check it out.
Ok,
unobstructed
Left Hand View
: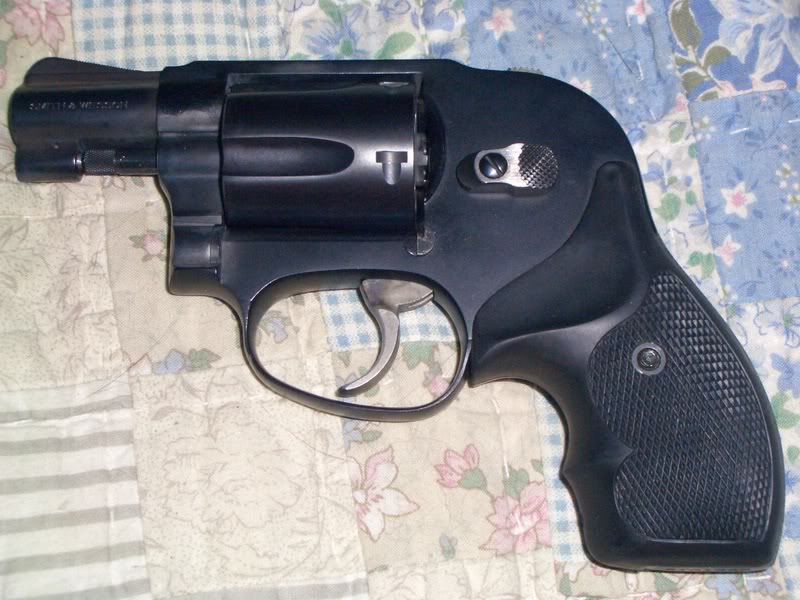 The target
, patterned with 3 cylinders of Winchester 125 gr JSPs. Except I shanked one low and right, under the tape measure, so you see only 14 holes in this picture. For the first five rounds I put the front sight in the middle of the 1.5 inch square box. For the next two cylinders, I lowered my aim point just a bit. I did one cylinder single action, and put two rounds in the box. Overall group is 4.25 inches high by 3.5 inches wide. I fired as fast as I had a clean, focused sight picture, but not real fast -- probably one every one to two seconds.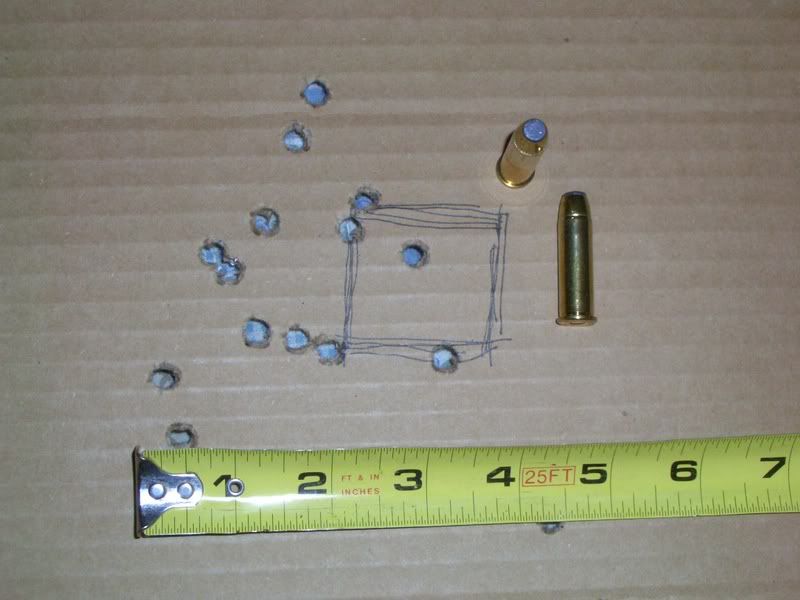 I like it! Especially the weight. It does not have a lock, which is OK by me. I don't gnash my teeth at integral locks, but I really don't think they are necessary and I do not use it on the one gun I own that has it, for fear it will jam in position or I will lose the stupid keys. Since there is no lock, I am guessing this was manufactured prior to, what, 2001 I think?
Will have to work on the POA/POI geometry, and run some different ammo thru it, but that's part of the fun. Oh, and get a decent holster or two...or three...or...
elb
Updated to reflect the correct model number...