Discussion Starter
·
#1
·
(With apologies to Bob Barker
)
Well, my special-ordered Kahr P9 Covert came in today, and I went and picked it up. Hopefully these clickable thumbnail photos will download to the thread. Here's the 7-round mag.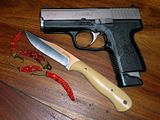 It's small, and pretty well made. Here's the 6-round, flush-fitting mag.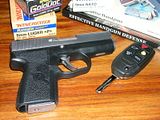 It came absolutely
covered
in thick oil. I mopped off the slide and frame, and then tore it down to look inside. I was sort of appalled at how roughly the polymer frame was finished. Lots of injection stubs and slivers of plastic leakage from the mold. I cleaned them all up and then looked at the barrel.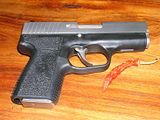 The barrel was weird. The polygonal "rifling" appeared corroded in the quasi-grooves. I ran Kroil through it, and it was still very rough afterward. Is this what Lothar Walther is turning out nowadays?
Anyway, I'll see how it shoots tomorrow. The metal work was nice, if a little sharp at places. Prettier than a Glock (not a hard mark to achieve) and felt svelte in my hand like a PPK/S (which, incidentally, it's the same size as).
Here's the P9 Covert next to a J-frame for comparison:
And, again (don't know why these "on edge" shots always come out blurry - might be the lighting):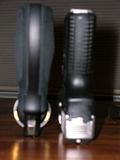 Anyway, I'm planning to hit the range tomorrow (can you join me, Gil?) to run the prescribed 200 break-in rounds through it. I've laid in a stash of WWB and American Eagle 124- and 147-grainers for that purpose. Then, I plan to start chrono'ing - I'm tentatively planning to carry Win Ranger 127-gr +P+ just as I do in my Glock 26 (since the P9 Covert has the same length polygonally "rifled" bore, I expect to get more or less equivalent velocities).
Did I mention that my wife gave me this?
I'd better come through on Valentine's Day!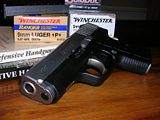 Well, hope you liked the pics, and I hope I have time to post a range report and some chrono results tomorrow (though I fear I may not, since I have to go to a fundraiser concert for a friend who's a magistrate up in Santa Fe).
Gil, can you get a kitchen pass?