Discussion Starter
·
#1
·
I've been running with a crazy meme for a while now: when I was 38, I felt justified in buying a .38 for no other reason than I was 38. When I was 40, I got my P239 in .40.
I've been a fan of the .41 Magnum since reading L. Neil Smith's
The Probability Broach
when I was a kid in the late '70s. I've owned a couple (a 4 5/8" Blackhawk that was a lot larger than it seemed and a 5 1/2" Redhawk that positively needed a gun carriage to bring on hikes), but I sold them off eventually. I've always liked shooting the S&W .41s, but never have been able to pick one up before - something always got in the way. Did a lot of handloading for the .41, though - it's the only way one can afford to shoot it.
Well, hey: now I'm 41. And I didn't have a .41 Magnum! It was only a matter of time before the inevitable happened.
And it happened today - I traded my Hi-Power for a friend's no-dash 4" Model 57. It was made in 1980, still in the pinned and recessed run of guns. It came with smooth factory target stocks of a type that I've only seen before on presentation-grade engraved guns. These are very pleasant in my hands.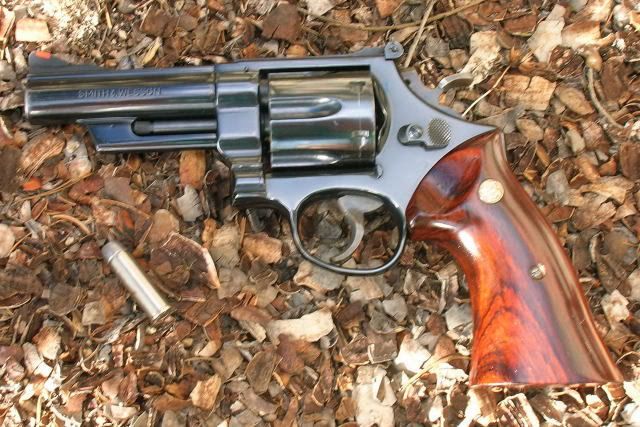 Condition, as you can see, is less than perfect. But where the blue isn't worn, it's deep and lovely. The gun has a great trigger and shot very well (though the 40 mph wind gusts buffeting me in the back made a one-hole 5-shot group at 10 yards impossible - I'm sure the gun will do it when I'm not fighting the wind).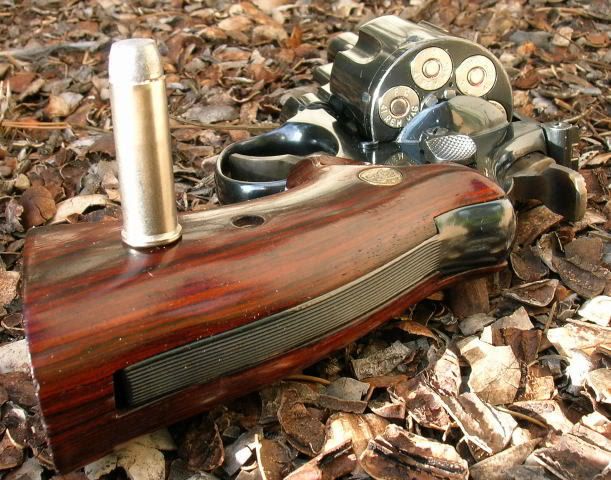 I ran a variety of loads through it. I no longer had any handloads about (gave the last of them to a friend not long ago), so I was limited to the factory stuff that I still had around. Next week, I hope to have loaded up some .41 Special loads - aiming for 950 fps from the 4" tube with some 170-grainers, which should be extremely pleasant to shoot.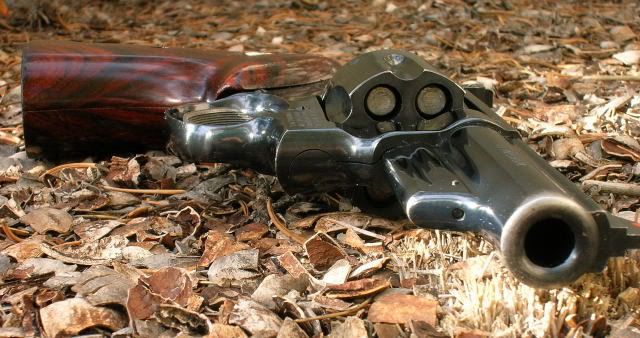 Here are some chrono data:
Cor-Bon 210-gr JHP M
1268
/ES 41.41/SD 18.00
Winchester 175-gr STHP M
1254
/ES 23.94/SD 9.48
Remington 210-gr JSP M
1298
/ES 46.63/SD 19.00
Federal 250-gr Castcore M
1173
/ES 55.86/SD 21.70
PMC 210-gr JSP M
1265
/ES 32.72/SD 11.66
PMC 210-gr JHP M
12.43
/ES 85.44/SD 31.82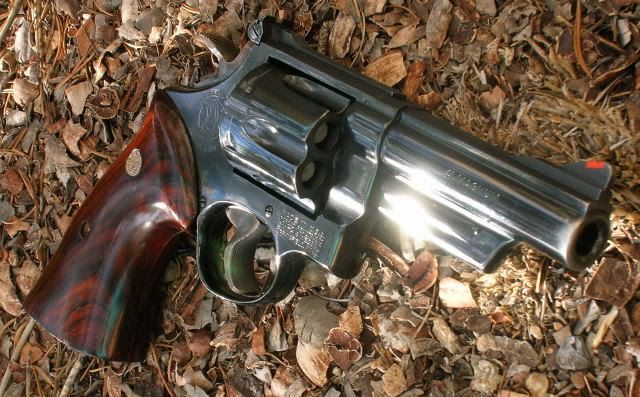 I'm very pleased with this gun. Now
this one
I have to keep!