Hi there Wes,
As a recent convert to the .357 SIG and a long-time user of the .40 S&W, I feel qualified to make some comments with regards to your excellent topic.
In the two loads I have chosen to carry in my G-23 and recently aquired SIG P-239, here are some comparisons from Federal and Speer's web sites:
In the Federal Load, product # PD40S4H 135 grain Premium Defense Load we have a 135 grain bullet leaving the muzzle at an average of 1200 ft/sec with muzzle energy hovering around 432 foot/pounds. That's a very decent showing for .40 S&W round.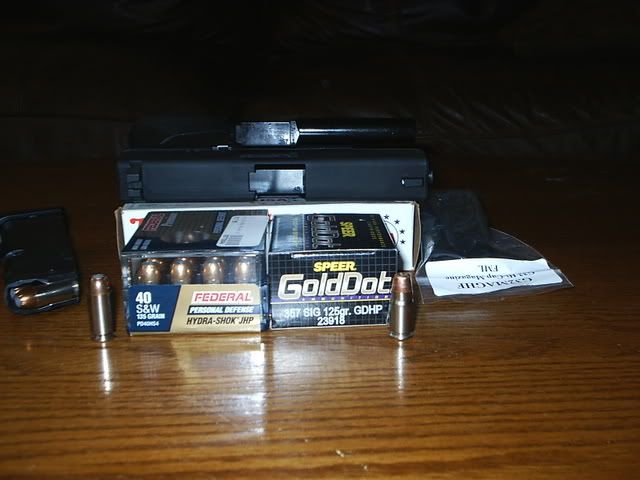 On the other hand, we have the Speer Personal Protection Gold Dot stock # 23918 round shooting a 125 grain bullet at a very respectable 1375 fps and boasting 535 foot/pounds in muzzle energy. The 155 grain load in .40 S&W is equal to the Federal Load.
For my purposes, ballistic coefficient and sectional density of the bullet itself makes little difference to me in terms of terminal performance.
From a "non-scientific" and practical viewpoint, the .357 SIG offers more muzzle energy and allows me more accurate shooting with less felt/percieved recoil due to the lighter and higher velocity cartridge.
Personally, there is a lot to like there.
I feel equally armed with both cartridges and functionally feel that the .357 SIG cartridge is a more reliable feeder due to its "bottle necked" case.
Chris