I've been a fan of quite a few pistols in my lifetime, but the Hungarian copies of the Browning Hi Power are among my favorites. Made by the Hungarian state arms concern known as FEG, the single action FEG Hi Power pistols bear model numbers like P9, P9M, PJK-9HP, FP9, and were imported by firms like Kassnar Imports, KBI, Century International Arms, Tennessee Guns International, SSME and others. The original FEG P9 Hi Power pistols are an unauthorized, completely-reverse-engineered, and totally faithful copy of the Pre Mark II Browning Hi Power pistol. The old Commissars did a masterful job of copying the FN design and turning it into a solid buy, as evidenced by the great numbers of them sold in this country between 1985 and 2004. They can be found for decent prices all over the country, and I'm lucky enough to own two pristine "new" examples of them.
Because of their low resale value compared to the Browning gun, I hesitated for some years to put any real money into them. But now I've bitten the bullet, said to heck with resale value and dressed up a couple of them, mainly because I'm sitting on two brand new ones that are tight as a drum, have first rate triggers in them, and are very accurate guns - and because at my age you don't put anything off for too long.
The first one was imported by the Kassnar family's KBI concern and is an early 90's example I bought from a Tennessee farmer in 2011 for $420 plus FFL fee and shipping. It carries the model number PJK-9HP (FEG called it the P9) and was still brand new in the box, wrapped in the original factory plastic wrapper. It came with the classic Browning small safety lever, Browning style extended slide stop, and tiny sights. It carries a serial number in the B20000 range, and, like most of these guns, shoots like a house afire. This is a "before" photo of this particular gun (but typical of both). They were handsome pistols just as they came from the factory, and I have a hard time seeing much of a qualitative difference externally between them and my Browning Hi Power.
"Before." FEG PJK-9HP as it came from the factory. FEG knew this model as the P9
.
Here is the same gun after I added a Browning Hi Power ambidextrous safety, Hogue rosewood grips, Novak three dot sights, and magazine bumpers.
The same gun "after" adding Rosewood grips, Novak sights, Browning safety, mag bumpers.
The second pistol is also a KBI imported PJK-9HP from the early '90's. It is my favorite handgun. I found it in unfired condition on GunBroker in '09 and bought it for $315 plus fees. It is in the B50000 range and came equipped the same as the first one except that this one had the much better three dot sights FEG adopted later in its production run. This pistol is unusual in that it has a sparkling blue/black blue job that honestly rivals the Colt Python and the Weatherby Mark V rifles of old. It must have been intended for a VIP, because I've never seen another FEG polished as brightly as this one. It too is a very accurate pistol. Dressing this one up consisted of new Novak three dot sights, substituting one of the beautiful FEG-made extended safeties (now impossible to find), Hogue Kingwood grips, and magazine bumpers. Here it is.
This FEG PJK-9HP (P9) has one of the nicest blued finishes I've ever seen on a pistol.
Why did I dress up two of them almost identically? Well, once my wife handled the first one, she gave me "that look" and said "where's yours?" So two it was. I stopped short of installing new custom "no-bite" hammers and enhanced triggers because these guns just didn't need them. I couldn't carry or shoot them any better with such expensive modifications, so I'm standing pat where I am.
These pistols fall into the category of inexpensive foreign guns that weren't appreciated until they were no longer made. Over the years they have been criticized for lacking the meticulous finish workmanship of the Browning guns, but shooters now consider them to be very good pistols that offer value far in excess of their price. They are immensely popular with their owners. In fact, gun forum members are often heard to cry big tears about the FEG pistols they wish they hadn't sold. I've owned five of them and have never had a malfunction, so I think they're very good guns and I like them well enough to pay the going rate for nice ones. If you fall under their spell, be aware that they're just about as addictive as the Browning Hi Power, 1911, and AR-15.
I guess I shouldn't wind this up without 'fessing up that the first FEG pistol I dressed up was back in '08, and was the Charles Daly Hi Power in the next photo. The CDHP was a standard FEG P9 like the ones above except that they had dovetail slots set up for Novak style sights and had their firing pin retaining plates milled off to accommodate the rear sight. They were imported in unfinished condition by KBI and finished initially by Dan Wesson and later by Magnum Research. Only KBI imported them and they are the only Hi Power pistols produced en masse with "Made in USA" stamped on them. Dressing this one up consisted of new MMC adjustable sights, a new set of Herrett's Cocobolo grips, and magazine bumpers. Like the others, this one is a very accurate pistol with a very good trigger.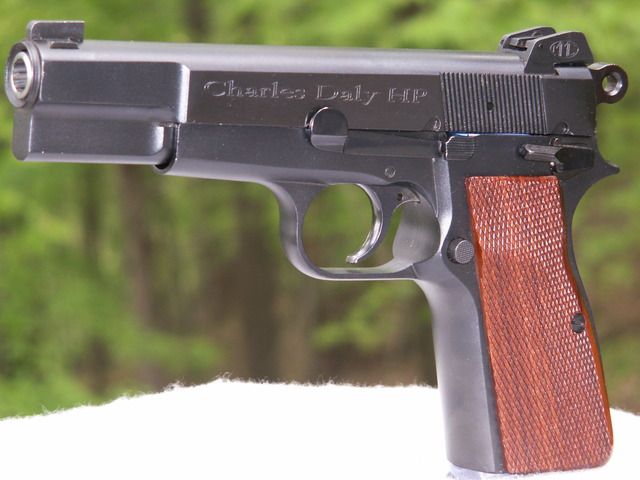 KBI's Charles Daly Hi Power version of the FEG P9. MMC sights, cocobolo grips, mag bumpers.
FEG later made a number of in-house modifications to these single-action guns that deviated tremendously from John Browning's design, beginning with a slight modification to the slide stop and eventually adopting an entirely different operating system based on Smith and Wesson designs. All three of the guns shown here are the original P9 versions that have the Browning operating system, but I have owned one of the Smith and Wesson flavored single action HP copies and found it to be an accurate and reliable gun that performed as well as the Browning-based models.
And just to prove to all of the Browning guys that I'm not a total infidel who went over to the dark side entirely, I also added a new set of Hogue Rosewood grips and an updated ambidextrous safety to my 1979 Sport Model Browning Hi Power (that I also bought in unfired condition in '09.) Mama doesn't get this one, although she insists on visitation rights.
1979 Browning Hi Power Sport Model with new grips and safety.
As you can probably tell from the narrative, whenever one of the single action FEG Hi Powers tries to follow me home from the gun shop, I usually don't try too hard to get away from it. Remember the addiction thing?
Last, a word about the double-action FEGs
.
Although they're often called Hi Power clones, they are not. They're not even close. Having model numbers like P9R, P9RK, MBK 9HP, and GKK 92C, among others, they were designed as fairly close copies of the Smith and Wesson Model 59 and only bear a slight resemblance to the Hi Power in the way the front of the slide is shaped. They have nothing in common with the Browning Hi Power other than the Colt/Browning locking system used by many other designs as well.
These guns are tough-as-nails, all-steel pistols well suited for harsh use. They make first rate truck and boat guns and will take a lot of punishment for not a lot of money. They just aren't Hi Powers.
Here is an example. This is a KBI Import, a GKK-92C compact 9mm.
The double action, FEG GKK 92C. Basically a S&W M59 copy, this is a LNIB compact model.
I may doll this one up too, but after sending two pistols to Novak's this months for sights, and buying three sets of Hogue checkered hardwood grips plus a couple of ambidextrous safeties, my SDI (Sudden Divorce Index) probably won't permit it for a couple of months or so. Best wishes.
JayPee