Hello OG,
Please forgive me if I am taking this a little "off topic", but my "first hand" comparison of the .40 vs. .357 SIG round/platform should bring something to the table so to speak.
I own both the P226 and P239.
I bought the P239 first due to its size and my desire to carry it for legal CWP carry. My observations are as follows for both the G-23, P239 and P226.
When I first got into the .357 SIG round, I first bought a G-32 barrel for my G-23 and decided to shoot it side by side with the .40 S&W. My first observation was that the .357 SIG had less "felt recoil" than the heavier bulleted .40 S&W and the recoil impulse caused the Glock to recoil in more of a straight back direction in my hand than with the less desirable muzzle flip of the .40 S&W.
By coincidence, there were a couple of "off duty" Horry County Deputies at the range the day I was shooting and I asked them to try the .357 barreled G23 to get their impressions. Their normal carry weapon is the larger G22 and both gave me pretty much the same feedback as I just reported. (Of course, they were grinning hugely!)
My next step was to "hand fit" the SIG P239 and originally I thought, "this isn't going to work, the grip size is too small for my meaty paws..." But, I was wrong! The proof is in the shooting as I took a $600.00 gamble and ordered a P239! The P239 turned out to be very ergonomically designed and the grip was just fine under actual shooting conditions!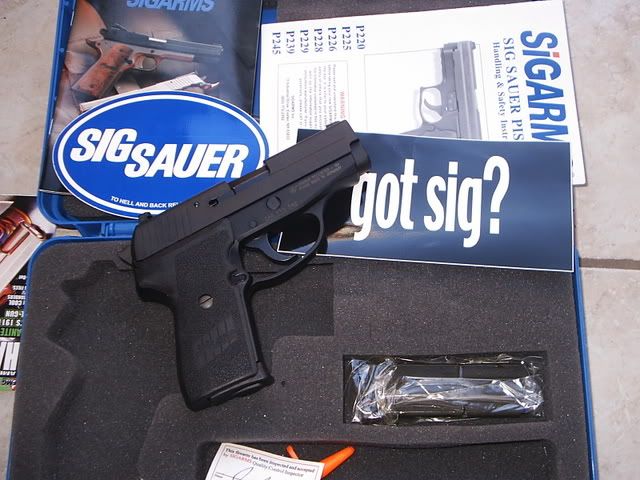 So, it worked out fine!
Of course, not to be undaunted and with the encouragement of my dear friend Mr. Twoguns, I decided then to order the full size P226 in .357 SIG to see how it would work out for me. Again, I wasn't disappointed, but suprisingly, I actually shoot the P239 a little better due to the slimmer profile of the grip.
Are they both accurate? Indeed a qualified yes! Is one better than the other? The short answer is, "it depends". Both are extremely reliable and accurate. I've shot the P239 with some of my reloads and it holds a slightly better edge for me.
Am I done? No sir, I am saving for the SIG P229 DAK!
ELB. Thank you again for the excellent report and qualitative test!
Chris