I have been watching these guns for some weeks now. CDNN has them for $349 which is a nice price for a quality 1911. The guns are made by Trabazon Gun Industries or TGI-AS (As being the Turkish designation for a corporation) as you might guess located in Trabazon on the Black sea (particuarly known for mild climate and the excellent teas grown there.) I had read a bit about this company, which is now equipped with very modern computer controlled milling machines. This has allowed them to make copies of quite a few guns, including Beretta, CZ and Colt's.
Anyway, I decided at the price it was worth giving the gun a try... so I ordered one which was delivered today.
I was quite favorably impressed with the gun when it arrived. The gun is packed in a black plastic box that is not the huge absurd sizes so many guns come in these days.
This image is reduced by 25%, click it to view full size.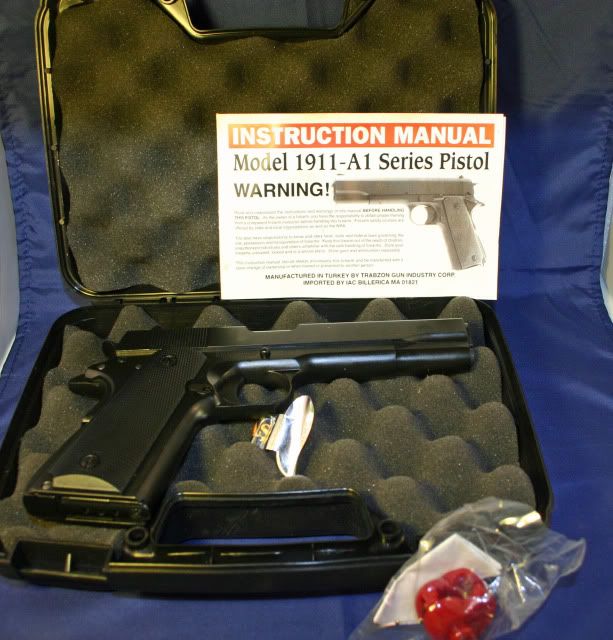 The first thing I did when I got it was to clear it and try the trigger... I was delighted to find the trigger is a lot better than I expected. The pull is smooth, not gritty and released crisply and cleanly at around 5-6lb of pull... quite good for any out of the box 1911 and especially so for an opening price point gun....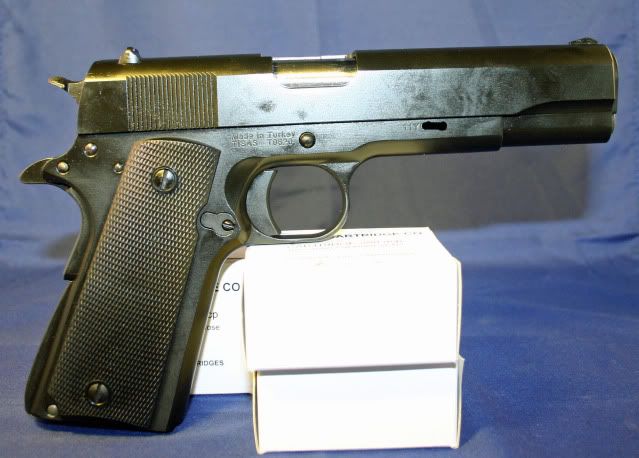 In examining the gun it became clear this gun is a real no "BS" 1911A1 from the GI sights to the arched mainspring housing. The parts are real steel the only plastic being the GI style black plastic grips that come with the gun... The finish is some sort of baked on synthetic material which hopefully will wear well. The grips are black plastic of a design similar to US GI grips.
The gun is marked 1911A1 and it certainly is...
The hammer is straight GI A1 from the 1940s...
This image is reduced by 25%, click it to view full size.

The thumb safety is however 1970s or so Colt's style.
This image is reduced by 25%, click it to view full size.

After examining the gun externally, I field stripped the gun... parts all seemed well made and fit very well indeed... snugly but not too tight.
This image is reduced by 9%, click it to view full size.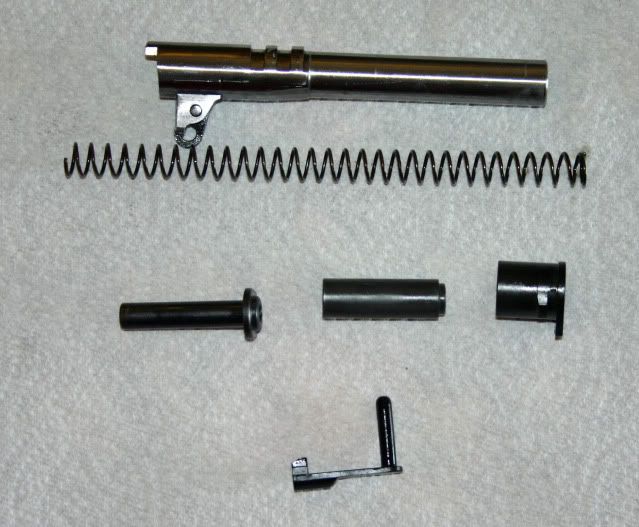 Curiously, the parts diagram that came in the owners manual showed a series 70 bushing... but the gun is fitted with a GI type bushing. I suspect they simply copied a parts diagram from a Colt's manual.
The barrel is well made and seems to be made of stainless steel... Have to see how it shoots of course, but the barrel looks like it is well made.
Unfortunately the feed ramp is not as smooth as I like so it can easily be fixed if necessary... A little work with a dremel with a felt wheel and some jeweler's rouge will fix hat right up...
The magazine looks quite good... but whilst I have seen the makers logo on the magazine before, I can't place it.... but I have seen it before.
All in all I am so far delighted with the gun... it has a very good trigger indeed, the gun seem very well made and will hopefully be reliable as well.
I'll need to take it to the range in the next few days to see how well it shoots... but if it shoots as well as it looks it will be an excellent value.
More to come
V/r
Chuck