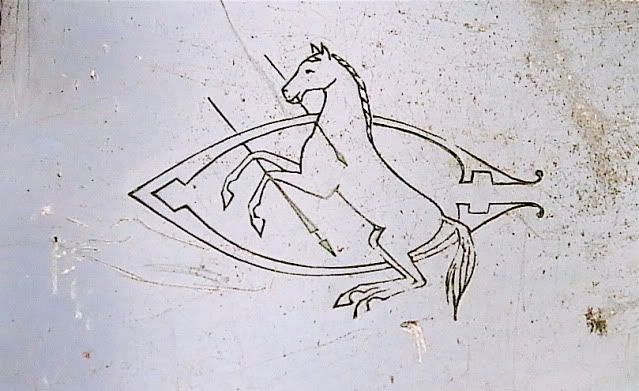 There was a discussion about the original finish of the Colt Model 1909 over on Colt Forum the other day so I awoke my Model 1909 from its slumbers, wiped the RIG off, and took some updated photographs of it. It is a mediocre example with some wear to its finish but I love it all the same. It was mustered out of the San Antonio Arsenal in 1920, and "given" to its original civilian owner, my old friend Cres Lawson, who was 13 at the time. Cres' dad paid $5 for the revolver (also bought 4 other 1909s to issue to night-watchmen at his San Antonio business) and included with it was 500 rounds of government .45 Colt ammunition, purchased for 1 cent each.
This Colt went on a number of trips to the family ranch, 500 miles deep into Mexico, in the 1920s and early 1930s and also to their ranch in Gillespie County, Texas. It shot alligators, turkeys, monkeys, and even some dynamite on one occasion in an effort to detonate it. As an experiment, it didn't work out and that probably was a good thing. It went along on a long vacation trip through the western United States in 1927 in a Willys Knight touring car. Highlights included Yellowstone, Yosemite, the Grand Canyon and the Painted Desert. It really wasn't suppose to have been taken in Yellowstone Park, even back then, according to Cres. It stood duty as the home defense handgun in the Lawson household for 81 years.
Cres didn't remember it's condition when it was given to him but I suspect that it was in unissued condition when he got it. He always kept it meticulously clean so its bore is perfectly sparkling bright. He swore by Winchester Crystal Cleaner in those days before the advent and general use of non-corrosive primers.
The finish still shows the fine polish and attention to detail that Colt gave their products of the era despite the bumps and bruises. The finish is so highly polished that it is difficult for an amateur with a crummy camera to photograph when using natural light. One can tell it was partly cloudy by looking into the finish's reflection. This revolver is unusual for the issue because it still sports a good measure of its original blue finish. Most 1909s were apparently sent to the Philippines and a climate which degraded the fine blue finish in short order. The Model 1909 is most often encountered with a brown patina.
This particular New Service is very tight has the finest action I've ever observed in a New Service revolver. The Colt Python I keep here has nothing on the positive action and smoothness of this century old Colt. The revolver probably hasn't had many more rounds fired through it than that original supply of 500 rounds if indeed all 500 were shot up in it. The single action trigger pull is so very crisp and feather light. The New Service internal lock work is of exactly the same design as the Python's only rendered on a larger scale.
It shoots really well with a 255 grain semi-wadcutter .452 diameter bullet and 8.5 grains of Unique.
I'm not certain that any other firearm ever made has as fine a blue finish as the very early 20th century Colt handguns. The trademark Rampant Colt as rendered within the stylized "C" is my favorite version of a Colt marking. It was only used for a few short years on either side of 1910.