Dear Friends,
The aquisition of the following pistol that began some two years ago as part of a first trip overseas to the Country of Switzerland in Europe.
A couple of years ago, I traveled to the Bernese Alps for the first time and managed between days of hiking to travel to the cities of Bern and Lusanne.
In those cities, I would occasionally find a gunshop filled with firearms from all over the world including SIG P-210's, Lugers and many unique firearms that were not easily obtainable in the U.S.
The Swiss have been known for century's for their fine metal, wood and precision fitting skills. "Made like a Swiss Watch" is not an expression for the Swiss, but rather an approach to life and production of day to day modern manufacturing marvels.
I would stare longfully at the bright cases filled with handguns and turn away with steadfast determination to own a Swiss Handgun.
Finally, this year, I made a connection with a handgun (one of the only!) still produced in Switzerland manufactured by Sphinx Co. in Interlaken, CH and imported by Sabre Arms here in the U.S. This handgun has an MSRP of $2,500.00 and was out of my meager grasp with my monthly budget and day-to-day living expenses.
Last month, I made yet another trip to Switzerland and again met with same determination to own a Swiss Handgun. I met with one of our fellow H&A members there and was shown a facinating display of European and American firearms. (As well as some very gracious hospitality) That raised the ante--I just had to have one!
Upon my return, I was finally given the opportunity.
I found a classified ad with a now discontinued Action Arms AT-84 manufactured in Solothurn, CH by the defunct Swiss Company ITM. This CZ style 9 mm pistol has all the accoutrements of the Sphinx and CZ-USA 75B pistol rolled up into one package!
I was absolutely floored to own one!
A deal was struck with the buyer who graciously made a generous offer for the purchase and promptly shipped.
Today, my Swiss AT-84 9mm pistol arrived....
As advertised, it arrive with the original shipping wrapper, instruction manual, cleaning brush, spare magazine. The condition of the AT-84 is NIB condition.
Here it is shown: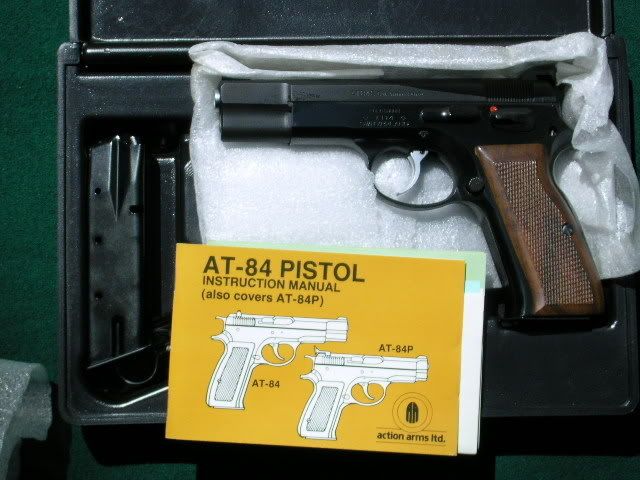 My first hand impressions are beautifully finished with bright blue flats, serrated slide top and Millet Style fixed sights. The grips are high gloss walnut. There is no play between slide and frame. It is made like a "Swiss Watch".
There are some distinct differences from my CZ-75B though. The slide stop is shaped differently and the slide/barrel is fitted with a full length guide rod. I am going to be very interested in how this contributes to the accuracy of the pistol.
The double action trigger pull is about 6 pounds with little overtravel and the single action at least half of that! In other words, it is going to be very accurate for practical shooting.
There is a an amazing paradox to this story. I contacted Manuel Wifp with Sphinx in Interlaken, C.H. to inquire into the pedigree of this pistol. He informed me that while ITM went out of business around 1996, the designer and chief engineer designed the Sphinx P-2000 series of handgun built by his company. Unfortunately, he passed away a couple of months ago.
Now, I finally have a handgun of Swiss manufacture and precision I have sought for a couple of years.
Sometimes, things just plain turn out right......
Chris