NOTE: I have been informed this is NOT a Browning BDA, rather is is correctly called a FN 140DA, which apparently is the same thing sans Browning markings... live and learn... :)
I have been thinking of either a Beretta or FN 380 for a few weeks now... not sure why... I really don't need one, and 380 has never much attracted me... but Gary Cole had some really nice examples of both guns on Gunbroker recently and the prices were sure a good deal... so I decided to try one...
I ordered a FN (Beretta built) BDA type pistol last week from Cole distributing... because of the holidays and a credit card mix up resulting from our recent move and address change, the gun did not get delivered until Saturday... Cole shipped next day after all the mix ups got sorted out... so not their fault at all.
Anyway, for a under $300 gun, I'm pretty pleased with the gun... coincidentally, the BDA mags I had ordered from Greg Cote also arrived today... so I was able to photograph both....
As has usually been the case with stuff from Cole, the gun cleaned up to look a lot better than it looked on his Gunbroker photos... some holster wear and a few shipping scratches...but otherwise quite nice...
Even the stocks which had looked quite scratched up look pretty good...
Internally, the gun looks like a Beretta 92 that someone washed with hot water and shrunk in the dryer... but it is in excellent condition... after removing the heavy layers of oil, it became clear the gun had not been shot much at all... the barrel seems new... and nothing shows much wear at all...
The gun came with one 13 round magazine, which was in pretty good shape, with a small amount of surface speckling... here it is compared with the new MecGar mag... factory is on the left.
The two mags have somewhat different base plates as well...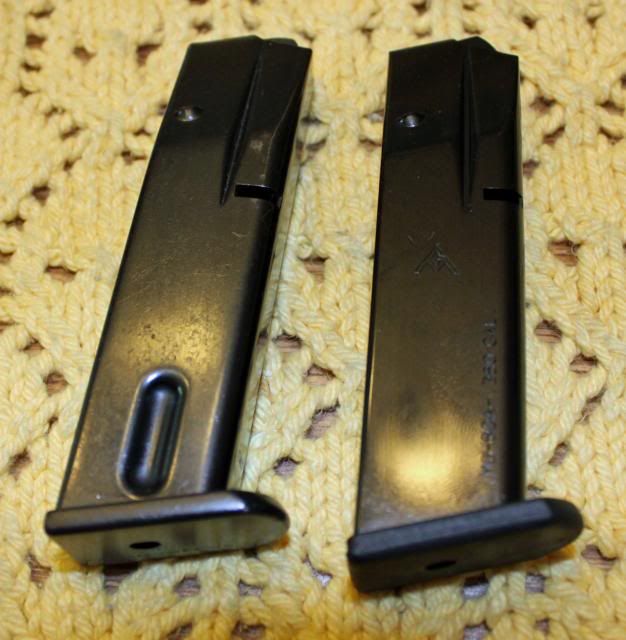 From looking at the mags I think they are both MecGar, but made at different times... the factory has witness holes in the back with round count numbers... the MecGar is plain...but the finish is quite similar...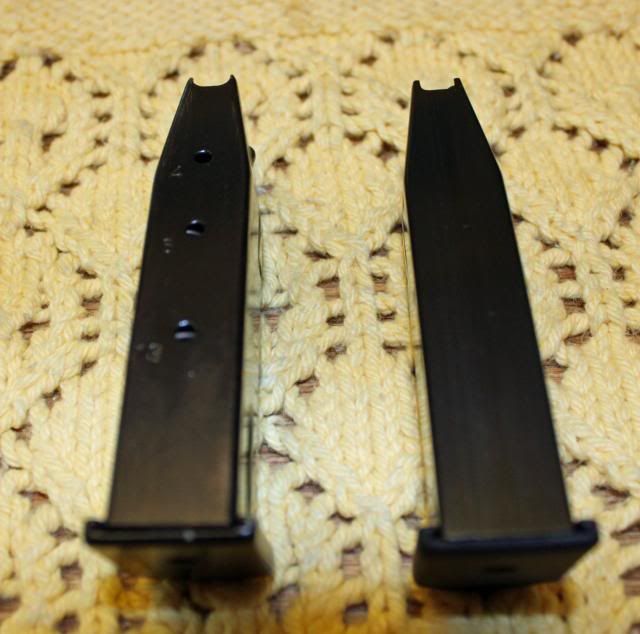 So, all in all I'm pretty happy with the gun... hopefully I can get it to the range in the next few days and see if it will shoot...
V/r
Chuck