Hi there all,
While in Switzerland this summer, I ran across this exhibit in a Schloss (castle) in Thun, Switzerland and thought I would share it with you all on this forum.
Tucked around the corner in one of the rooms was this exhibit containing the Executioner's Sword of Thun circa 1350 that was used, well, for beheading criminals of the court.
It had a very heavily "nicked" blade and contained Ruin like symbols running down the center of the blade.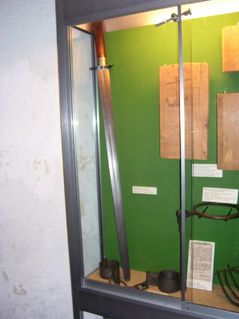 Unlike other broadswords on display, this does not have the defensive hilt and features a full length tapering blade. Note that the end of the blade is not pointed for stabbing.
HAPPY HALLOWEEN ALL!
Chris